Image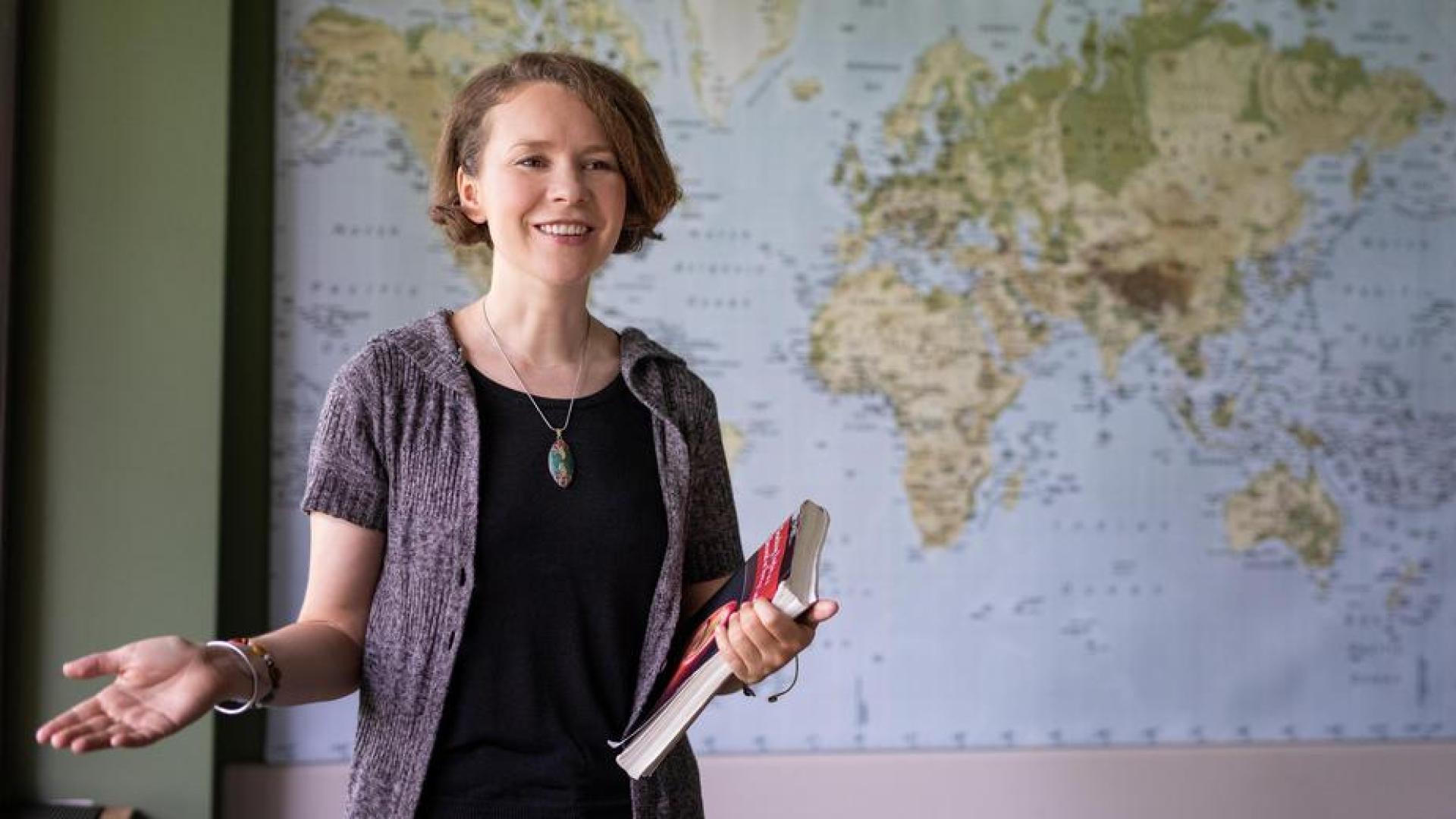 Master of Arts in Teaching English to Speakers of Other Languages (TESOL)
Online
Online TESOL master's degree
Language is a vital resource that inspires connection and creates possibilities. Hamline's MATESOL program provides you with the techniques and knowledge to enhance English learners' skills—promoting social and economic access and equity in the process. You'll examine the worldwide scope of English as a lingua franca and learn how you can help sustain linguistic and cultural diversity.
With a master's in TESOL from Hamline, you will:
Understand the relationship between language and culture along with its implications for learning and society
Gain foundational knowledge in language systems and how they relate to instruction
Develop cutting-edge skills in teaching and assessment
Develop the expertise to effectively motivate English language learners in a variety of settings
Establish the research skills you need to be an informed, active, and collaborative practitioner
Hamline has prepared teachers to work in the United States and in global contexts for over 20 years. Our graduates have taught in public and private schools and universities in over 25 countries and received Fulbright grants and US Department of State English Language Fellow positions. Join our global teaching network.
What will it take?
Time to Complete
20
months
Next Session Starts
January 22, 2024
Master's in TESOL program details
Start dates and application deadlines
We review applications on a rolling basis, meaning you can apply and start your MA TESOL online degree at three different times throughout the year. We recommend applying at least six weeks before the term you want to start begins to ensure your spot.
TESOL master's online or hybrid
Hamline's MA in TESOL is offered entirely online for maximum flexibility and convenience. Some individual classes may meet synchronously (at a set scheduled time) online on weekday evenings, typically 5:30–9 p.m.
Time to complete MATESOL degree
You decide your pace and graduate in as few as 20 months.
Master's in TESOL courses
You'll finish your MA TESOL degree online in 10-12 courses.
Core courses (24 credits):
The core of the MA TESOL is made up of six courses:
ESL 8100: Linguistics for Language Teachers (4 credits)
ESL 8110: Language and Society (4 credits)
ESL 8120: Pedagogical Grammar and Discourse (4 credits)
ESL 8130: Exploring Learner Language and Second Language Acquisition (4 credits)
ESL 8150: Advanced Linguistic Analysis (4 credits)
GED 8400: Research Design (4 credits)
 
---
MEtHODS COUrSES (8 credits):

Choose one of the following options:
Option one:

ESL 7621: TEFL Certificate Part I (4 credits)
ESL 7622: TEFL Certification Part II (4 credits)

Option two:

ESL 8105: English Teaching Practices (4 credits)
ESL 8107: Course Design and Assessment (4 credits)
---
Capstone (4 credits):
Choose one of the following:
GED 8490: Capstone Project (4 credits)
GED 8495: Capstone Thesis I & GED 8496: Capstone Thesis II (2 credits each)
K-12 ESL License
If you're interested in earning your K-12 ESL License and a master's degree, see the initial ESL licensure program (for those without a current Minnesota teaching license)  or the additional ESL licensure program (for those already holding a Minnesota teaching license in another content area). Following licensure, you can earn the MATESOL with an additional 14 credits.
For more information about this option, please contact gradprog@hamline.edu.
Hamline and exceptional teacher education are synonymous in my book. When I sought an MA TESOL program, Hamline drew me in immediately, from the program's presentation and goals to the prompt and professional correspondence with my future professors."
How we help make your TESOL degree affordable
Competitive tuition
When you invest in a master's degree in TESOL from Hamline, you benefit from a prestigious degree from Minnesota's first university. We work hard to ensure our tuition, accompanied by scholarships, tuition discounts, and other financial aid, is a worthwhile investment for all students.
Generous financial aid
In addition to the scholarships and tuition discounts listed below, additional financial aid is also available, and many graduate students use low-interest loans to finance their education.
Academic merit scholarships - $1,500
Leadership scholarships - $1,500
Learning partnership discounts - 10% tuition discount
Service scholarships - 10% tuition discount
Alumni discounts - 10% tuition discount
Tuition discounts of 10% off tuition are available to eligible students.
MATESOL Faculty and Alumni in the News
Read about Hamline MA in TESOL faculty and alumni and the work they are doing in the field.
HSEL Professor Betsy Parrish gave a virtual presentation at the National Conference for Teachers of English in San José, Costa Rica. Her session,...
MATESOL graduate Abdullahi Soyan (pen name Abdullahi Janno) was recently featured on a WCCO news segment about his recently published children's book...
Hamline MATESOL student Greta McElvain presented her thesis paper at The Second Language Acquisition Graduate Student Symposium on April 1, 2023. Her...
Kenya Nelson, a graduate of Hamline's MATESOL program , presented "Critical Race Theory: Measuring Anti-Black Sentiment In South Korean English...
Education professor Betsy Parrish (Education professor) and Patsy Egan (ATLAS Director) recently led trainings for the Teaching Skills that Matter...