Financial support for all
Grants and scholarships are two forms of gift aid that you don't need to pay back. Gift aid can come from Hamline, the Minnesota State government, the federal government, or outside sources.
Students must maintain full-time status to be eligible for a Hamline-sponsored grant or scholarship assistance, while other forms of aid require half-time status. You can verify your enrollment status by checking the table below.
Please note that only courses required for your program count toward your enrollment status for financial aid. Students are no longer eligible for federal or state funding after they complete all the academic requirements for their program (i.e., BA, BS, or BBA), regardless if they select not to receive that degree for reasons such as adding a second major, minor, etc.
Determine your enrollment status
Program types
Enrollment status
Credit requirement

Undergraduate, post-baccalaureate, online bachelor's, teaching licensure

Half-time
At least 6 credits per semester
Full-time
At least 12 credits per semester
Full-time (for state grants)
At least 15 credits per semester for full reward
Master's, doctorate, graduate certificates
Half-time
At least 4 credits per semester
Full-time
At least 8 credits per semester
Hamline gift aid and scholarships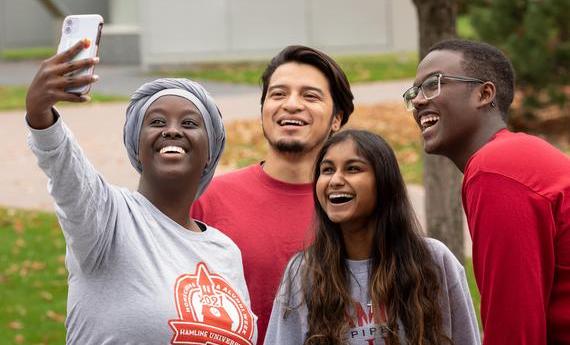 First-year scholarships
Merit scholarships are awarded based on your admission materials—no separate application needed! Additional support of up to $5,000 is also available.
Transfer scholarships
On-campus transfer students can get up to $26,000 for academic achievement. We have awards for Phi Theta Kappa, heritage applicants, and first-generation students too.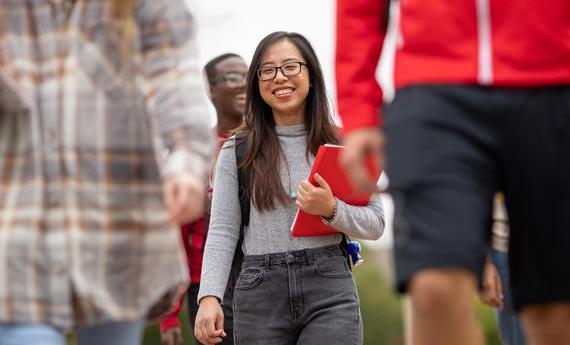 International undergraduate scholarships
Incoming international students are eligible for scholarships based on academic excellence (up to $25,000 per year), talent across disciplines, ESL program completion, and more.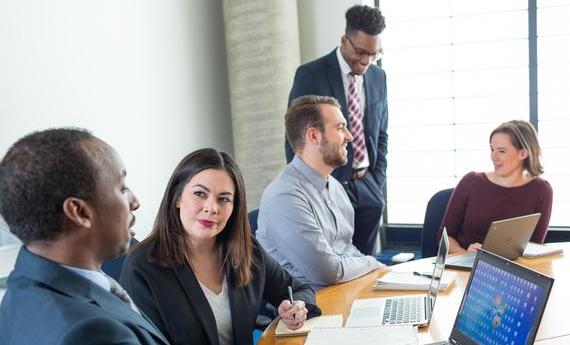 Graduate scholarships
If you're a master's or doctoral degree-seeking student, you have options for financing your education. See what scholarships your program offers.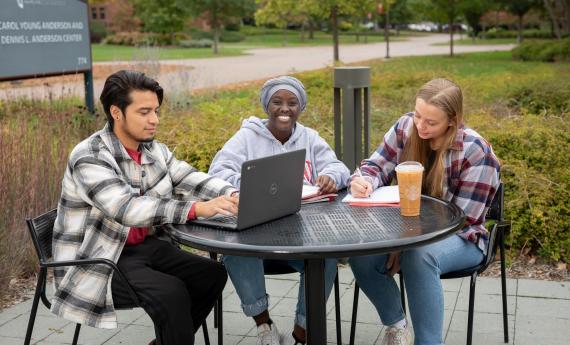 Outside scholarships for all students
Our growing list of outside scholarships can help you find extra funding. Explore your options and learn how we disburse these third-party awards.
When are grants and scholarships credited?
Financial aid will be disbursed approximately two weeks after the start of each term. This ensures accuracy, allowing the Financial Aid Office to adjust aid packages to reflect actual enrollment after the Add/Drop period. Credit refunds are processed no later than 14 days after a credit balance is shown on a student's account. J-Term/Winter and Spring enrollment will be combined and considered as Spring Term for aid disbursement purposes.
Award offer changes and revisions
If we receive new or additional information about your housing, outside funding, enrollment status, etc., your financial aid is subject to change. Any Hamline merit and/or need-based scholarships and grants may be funded by a named donor scholarship. Students will retain the honorary winner of the original award. An email will be sent to your Hamline email account. If you ever need a paper copy of your financial aid offer, you may request one from Student Administrative Services.
State gift aid
Minnesota State Grants for undergraduate and online bachelor's degree completion students
Minnesota Student Teacher Grant for undergraduate and graduate students
Minnesota Aspiring Teachers of Color Scholarship Pilot Program
Minnesota Indian Scholarship Program for undergraduate and graduate students
Minnesota GI Bill® for undergraduate and graduate students
Minnesota Postsecondary Child Care Grant for undergraduate students
Minnesota Dream Act and/or qualifying DACA students
Minnesota Fostering Independence Higher Education Grants
MN Education and Training Voucher (ETV)
Public Safety Officer's Survivor Grant
Federal gift aid
Federal TEACH Grant for undergraduate and master's students
Federal Pell/SEOG for undergraduate and online bachelor's degree completion students