Online Bachelor's Degree Completion

Same degree, same university. All online.
Finish your bachelor's degree online and earn a Hamline University degree on your schedule from anywhere. Get the knowledge and skills to transform your life and propel you on a successful career path.
 
You'll succeed with our individualized advising
At Hamline, you're not another number. We work with you to ensure your success. Your dedicated staff and faculty are invested in you and offer the guidance and flexibility to help you realize your goals. 
From your first contact with us to when you graduate, we'll guide you through every step of your education at Hamline.
Your degree: never easier
Graduate in
18 months
Students who take two courses at a time finish their bachelor's degrees in approximately 18 months.
Your terms,
your time
Meet your deadlines on your own terms, with flexible online classes you can schedule to fit your life.
Instructors who
know you
You get individualized instruction with our small class sizes — an average of 11 students per class.
Online bachelor's degrees and majors
Affordable tuition
You get the same bachelor's degree as our on-campus students at an affordable price.
Not only do you pay a reduced tuition rate, but you'll also only pay for what you use. No hidden fees for things you won't use as an online student.
Financial aid
Finishing your college degree at Minnesota's first university is one of the best investments you can make.
90% of our students receive financial aid. We make sure you have the resources to pay for your education and any other expenses while you're in our program. Explore all the ways Hamline helps.
Image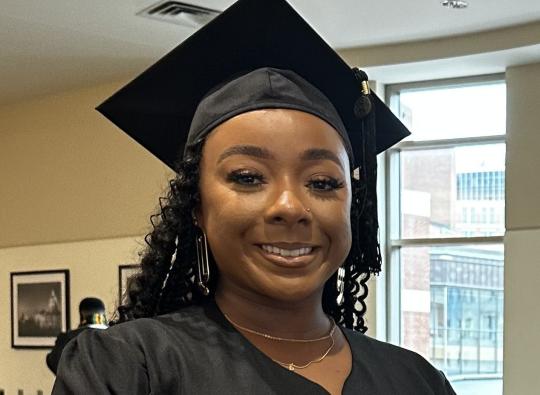 I chose the online degree completion program because it offered a tailored experience where I could work and earn my degree. From application to completion, there was always someone to answer my questions; I really appreciated the involvement of the professors and my advisor.
Start dates to finish your bachelor's degree online
With several opportunities to start each year, we make sure you can finish your degree when it's best for you.
Spring 2024 term start dates:
Spring Session I: January 2, 2024
Spring Session II: February 26, 2024
Summer 2024 term start dates:
Summer Session I: April 29, 2024
Summer Session II: June 24, 2024
Your checklist of next steps
Interested in the on-campus experience?
Not sure about finishing your degree online? Or are you looking for a different major? Hamline offers more than 100 areas of study for our on-campus transfer students. Find out if applying to Hamline as an on-campus transfer student is a better fit for you.