Online Bachelor's Degree Completion Admission
A brighter future awaits: Finish your college degree online
A bachelor's degree opens doors to a more rewarding career, higher earning potential, and greater job security. We know your goals are unique, which is why we offer a personalized approach to your education and a flexible online program that is both convenient and affordable, whether you're transferring from a community college or finishing a degree you started years ago.
There are so many advantages an online bachelor's degree at Hamline can offer:
You can pursue your BA in psychology, BBA, or BA in Education and graduate in as few as 18 months
Our online program is flexible, so you can access your courses anytime
Your tuition is half the cost of on-campus education
Interested in completing your degree with us? Hamline can enroll students living in most states, but please confirm whether your state is eligible. If you want to know if you're eligible to apply, use our Transcript Review or Transfer Evaluation System too.
Looking to connect online? We're available to live chat. Simply email us at ODCAdmissions@hamline.edu with your preferred time or call us at 651-523-2900.
SVG
Ready to apply?
Get started with your online application to Hamline using our handy application checklist.
SVG
Already admitted?
Find out how to prepare for your new life in college—and don't forget to sign up for orientation!
SVG
Admission FAQs
Got questions? We've got answers. Learn all about the program, transfer credits, and how online learning works.
Get the support you need
We get it: You're a busy working professional whose needs are quite different from a typical college student living and studying on campus. That's why our online faculty at Hamline is here every step of the way to help you succeed in finishing your degree. This program will open up your future for more success and opportunity. You can accomplish your goals and more—all without leaving your living room.
Achieve success from the comfort of your home
We want your online education program to be a successful one at Hamline. That's why we provide each student with an Online Navigator who will be your main point of contact and primary source for questions and advice throughout your degree program.
Among the many benefits you'll receive taking online courses:
You'll have the opportunity to participate in group discussions, chat one-on-one with your instructors, set up study groups, or interact in real time through video, text, or sharing—all on your own schedule
Our online students also have the ability to participate in the Hamline academic experience and have access to academic advising, technical support, the library system, career services, and more
Before your coursework begins, you'll be part of a comprehensive online orientation session, which includes an introduction to Hamline's online learning platform, Canvas.
SVG
Degrees and courses
Complete your online bachelor's degree in business, education, or psychology.
SVG
The Hamline academic experience
With our personalized attention and hands-on learning, you'll get an excellent education for your career.
SVG
Career development
We support you in the search for jobs, internships, and volunteer opportunities.
Invest in your future
At Hamline, we believe that everyone deserves access to a quality, affordable education. That's why we have designed an online bachelor's degree completion program delivered in a cost-effective format. Financial aid is available in the form of federal and state grants and low-interest student loans, outside or private scholarships, and employer reimbursement. Tuition reimbursement may be available through your company.
SVG
Online bachelor's financial aid
Explore all the ways Hamline helps, from scholarships and grants to loans.
SVG
Current tuition rates
Quickly estimate your college costs with our online degree completer.
I heard about online degree completion as a student on campus and switched over when I became pregnant. My advisor, Kelly, always answered my questions quickly, and he made registering for classes a breeze. It helped me graduate as a young mom."
Image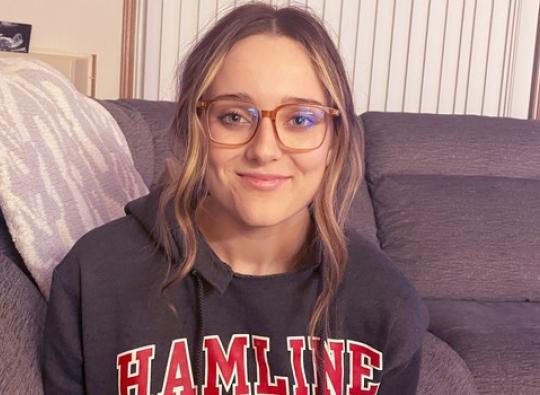 SVG
Start your application
No matter what kind of student you are, you'll find everything you need to get started with your application.
SVG
Get more information
It's easy to get the information you're looking for. Tell us about yourself and we'll share all about Hamline.
SVG
Request virtual meeting
Meet with one of our advisors to discover what makes Hamline's online bachelor's degree program special.