Admission Info for Transfer Students

Take charge of your future
As Minnesota's first university, Hamline has been leading the way since 1854. In fact, we were ranked as the state's Best Regional and Best Value University by U.S. News & World Report. This isn't solely based on our excellent academic programs but also the overall value we bring—meaning, we care about making your college experience affordable. 
Here are some transfer student admissions facts we take pride in:
95% of incoming transfer students receive Hamline grants and/or scholarships, with aid available to graduates as well
23% of last year's graduates transferred from two- or four-year colleges or universities
Two-year assurance of graduation for transfer students with Associate of Arts degrees from regionally accredited colleges and universities
For transfer students who are eligible and want to participate in our Two-Year Assurance program, you must have a minimum of 60 transferable credits and adhere to posted deadlines, minimum grade requirements, and minimum credit load requirements.
How do you know which of your credits transfer? It's easy. 
Minnesota Transfer Curriculum (MnTC) for associate of arts degrees
Hamline recognizes that Minnesota State community college graduates have received a rigorous, quality education and are prepared to complete a bachelor's degree successfully. We guarantee Hamline admission for students who have completed an associate of arts (AA) degree and the Minnesota Transfer Curriculum (MnTC) if they have met all eligibility criteria. 
In addition, we accept the MnTC credits as a block to meet general education requirements at Hamline. Students must meet Hamline's GPA requirements, and Hamline requires some additional courses specific to our mission that do not result in additional time spent toward degree completion.
Students must complete the transfer application process, submit official transcripts and maintain a cumulative GPA of 2.5. If all courses meet the GPA requirement (2.00 or a grade of C-), all 60 credits will transfer towards the degree. This guarantee of admission program applies to transfer students only. Students who have completed the AA and/or the MnTC while in high school must apply to our institution as a first-year student.
Are you completing a Transfer Pathway at a Minnesota State community college in the metro area? Find out what Transfer Pathways we currently accept and how those credits transfer to Hamline!
Why transfer to Hamline University?
When you join the Hamline community as a transfer student, you're signing up to learn from talented scholars who want to help you develop real-world skills to prepare you for your career. You're also signing up for incredible opportunities to showcase your leadership skills and make friends if you choose to participate in one of our many student-run organizations.  At Hamline, you direct your destiny, but we provide the momentum.
Inside the classroom and beyond: What to expect
Once you decide to become a Piper, you undergo a transfer student-specific orientation process to ensure you smoothly acclimate to Hamline. With a 13:1 student-to-faculty ratio and a choice of more than 125 program areas, we provide you with an intimate learning environment and the power of choice, along with top-ranked professors who are dedicated to your academic success. We also offer a plethora of resources for you to find on-campus jobs or off-campus internships, engage in collaborative research with faculty, or study abroad. And for those students who are eligible, we have also instituted a two-year graduation assurance program.
On- and off-campus life
For students who intend to live on campus, Hamline has so much to offer on where to live, what to eat, and how to have fun! 
Want to add a social boost to your college experience here? See what Hamline has to offer!
Get involved in one or more of our 80 student organizations, including 22 NCAA Division III teams, a variety of club sports, and six music ensembles. 
For students who are looking for personal guidance and wellness support, we provide religious and spiritual programs and events, as well as counseling and health services. 
Explore city life: Hamline is home to a vibrant metro community of more than 180 city parks, 20 Fortune 500 companies, great restaurants, museums, sports centers, theatres, and outdoor recreation. 
There is truly something for everyone!
 
Visit and admission events
Tour Hamline to see your future as a Piper, whether in person or virtually. 
Meet your transfer team
Hamline is dedicated to the success of our transfer students. Learn more about our experienced Transfer Team staff who will help you throughout your time at Hamline University.
Image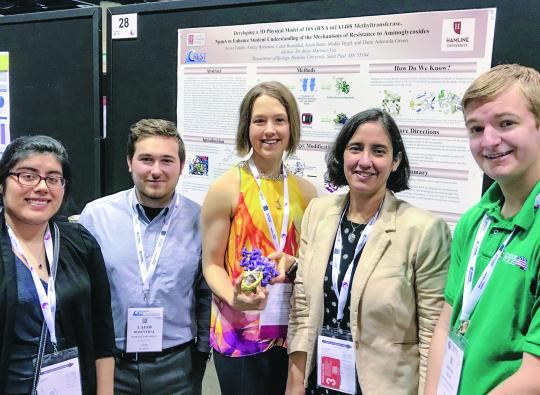 Most of my cohort is four years younger than me, and I've never felt like that was an issue. I think that's really unique about Hamline—they're really welcoming.
Looking to transfer to an online program?
Interested in transferring to Hamline but looking for a fully online option? We offer degrees in business and psychology as well as a bachelor's degree in education for those currently working in K-12 schools as paraprofessionals.