The Hamline Academic Experience

A Hamline degree will set you apart
At Hamline, we believe in providing you with a career-ready education. That's why, as a Piper, you will participate in practical, real-world experiences both in and out of the classroom to help prepare you for your career.
From every class in your chosen major to your general course requirements, Hamline ensures that by the time you graduate, you will have a top-rated education that is attractive to future employers. 
1. Easy-to-complete general education plan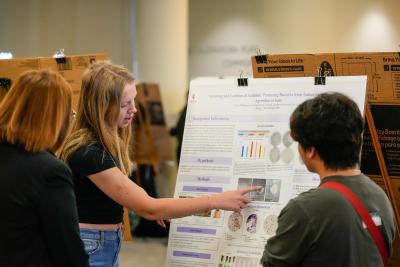 Every Piper completes our general education plan—the Hamline Plan—which helps you develop skills such as collaboration, leadership, critical thinking, and communication— so you have the tools to succeed in your first career and every career thereafter.
The Hamline Plan requirements are seamlessly interwoven into your major and minor coursework, making it easy to graduate in four years.
 
2. Skills-based minors to make you more competitive
A skill-based minor complements any major and gives you more opportunities to enhance your education—helping you stand out in your field. Examples include:
Applied psychology minor
Business practice minor
Data visualization minor 
Digital storytelling minor
Ethics and advocacy minor
Forensic and investigative science minor
Leadership minor
3. Hands-on experiential learning built into everything
While at other universities, students have to wait until their senior year or even graduate school before they can participate in educational and practical experience opportunities in their field, at Hamline, you have the opportunity from day one. These opportunities can help you stand out when applying for jobs after graduation.
Paid internships
As a Piper, you will complete at least one paid internship in your field. Hamline offers many connections to industry leaders within Minneapolis-Saint Paul and beyond. To help you land your ideal internship, our Career Development Center staff will work with you to create an effective resume and help you prepare for job interviews.
Research opportunities
All Pipers have the opportunity to work side-by-side with their faculty mentor on at least one research or engaged-learning project. You may work on a research project faculty already have in progress or you can develop your own project.
Real-world experiences
At Hamline, every Piper participates in a hands-on, experience-driven education to provide you with real-world skills that employers in your field will value. For example, you may take courses with embedded research experiences or courses with community-engagement built into your learning.
4. Academic support from day one
Ready to go — from Day One.
Hamline students get real-world experience with internships, lab work, archeological excavations and so much more -- making them ready from the moment they start their careers.