Transfer to Hamline and finish your degree online
Human beings are complex. With Hamline's online psychology major you'll explore the foundations of human behavior. You'll develop a wide range of knowledge as you explore the many areas of psychological study including brain function, family relationships, group interactions, development across the lifespan, mental illness, and more.
When you finish your bachelor's degree online with a psychology major at Hamline, you'll join a learning community of experts in the field. And you'll enjoy:
Small class sizes
A career-focused program designed to help propel you in your current and next career
A skills-based education where you'll develop skills that employers want beyond your subject-matter expertise
A respected degree from Minnesota's best regional university as ranked by U.S. News & World Report
Image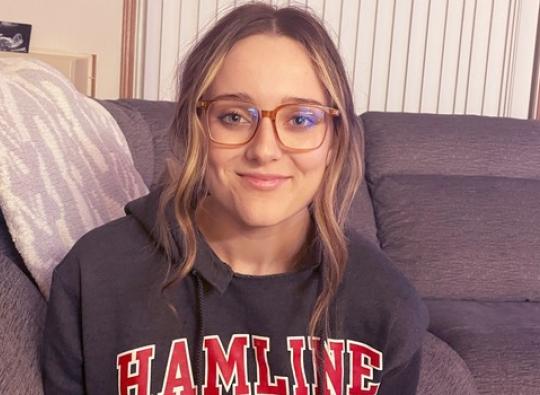 I heard about online degree completion as a student on campus and switched over when I became pregnant. My advisor, Kelly, always answered my questions quickly, and he made registering for classes a breeze. It helped me graduate as a young mom."
Explore career paths for psychology majors
What can you do with a major in psychology? Explore a few of the possibilities with the jobs and fields outlined below. Some of these do require graduate degrees but don't worry. Our psychology major is top-rated among prospective employers and graduate schools. 
Licensed psychologist
Licensed alcohol and drug counselor
Social worker
Forensic psychologist
Industrial organizational psychologist
Child psychologist
Community outreach specialist
Neuropsychologist
Public relations specialist
Health and wellness counselor
Take your psychology studies further
Our graduates have gone on to medical and graduate schools across the country in the pursuit of master's and doctoral degrees. Examples of programs and schools include:
Master of Addiction Studies program, University of Minnesota
Doctorate in Counseling Psychology, St. Thomas University 
Master of Social Work, Augsburg University
Doctorate in Osteopathic Medicine, Stillman Medical School, Missouri
Masters in Addiction Studies, Hazelden Betty Ford Graduate School
Master of Art in Occupational Therapy, Saint Catherine University
Master of Arts in Education, Hamline University School of Education and Leadership
Licensed Marriage and Family Therapist, UC San Diego
Masters of Human Resources Management, University of Minnesota Carlson School of Management
Hamline-Hazelden Betty Ford graduate school partnership 
You can jump-start your postgraduate degree in addiction and mental health through Hamline's partnership with the Hazelden Betty Ford Graduate School of Addiction Studies (LADC and LPCC licenses).
The Hazelden Betty Ford Graduate School of Addiction Studies considers Hamline University students' early applications for its graduate-level programs. Here are some fast facts about the process:
To qualify, students must have a minimum overall GPA of 3.30 at the time of application
Applications will be considered up to 18 months before the applicant's expected enrollment at the Hazelden-Betty Ford Graduate School of Addiction Studies
Applicants must meet the admission requirements as specified on the Hazelden-Betty Ford Graduate School of Addiction Studies website
The application process includes letters of reference, an interview, and a personal essay
To apply or learn more, contact Serena King at sking02@hamline.edu or visit the Hazelden-Betty Ford Graduate School of Addiction Studies website.
Discover some related programs