Image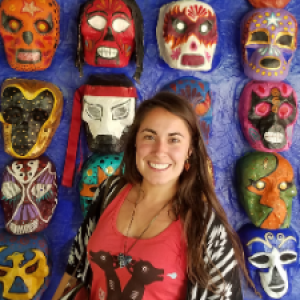 Sofía Pacheco-Forés
Assistant Professor - Anthropology
Sofía Pacheco-Forés is an Assistant Professor of Anthropology specializing in bioarchaeology. The proud daughter of Cuban and Venezuelan immigrants, Sofía's research focuses on migration in ancient Mexico. Using a range of methods including archaeological chemistry and variation in human skeletal and dental morphology, she reconstructs migration patterns to understand the experiences of past migrants and their receiving communities. She examines the role migration played in social and cultural change, including in ancient state formation, the spread of novel material culture complexes, the expression of social inequality, and eruptions of mass violence. She has on-going collaborative research projects in central Mexico, Oaxaca, and northwestern Mexico.
In addition to her research, Sofía is involved in science education and outreach activities with the goal of fostering increased inclusion and diversity within anthropology. She is a Senior Editor at Anthro Illustrated, a collaborative project creating illustrations of anthropologists of diverse backgrounds at work. She also encourages increased representation and participation in anthropology through the SkypeA Scientist program, speaking with bilingual K-12 students about anthropology and bioarchaeology.
Sofía favors an experiential activity-based approach to teaching, encouraging students to draw connections between anthropological concepts and their own experiences. Whether teaching in the classroom, the laboratory, or the field, she leverages her students' diverse perspectives to promote and enhance their engagement with anthropological theory and methods. This approach helps give students direct insight into how anthropologists use methods based in observation to learn about human societies, both past and present. Her goal in teaching is that even if students never take another anthropology course, they come away with a deeper appreciation for science, the past, and the sheer diversity of human culture, as well as a desire to share that appreciation with others in their lives.
2021 - SI Pacheco-Forés, CT Morehart, JE Buikstra, GW Gordon, KJ Knudson. Migration, violence, and the "other": a biogeochemical approach to identity-based violence in the Epiclassic Basin of Mexico. Journal of Anthropological Archaeology61, 101263. https://doi.org/10.1016/j.jaa.2020.101263
2020 - SI Pacheco-Forés, GW Gordon, KJ Knudson. Expanding radiogenic strontium isotope baseline data for central Mexican paleomobility studies. PLOS ONE 15, no. 2: e0229687. https://doi.org/10.1371/journal.pone.0229687.
2020 - E Alonzi, SI Pacheco-Forés, GW Gordon, I Kuijt, KJ Knudson. New understandings of the sea spray effect and its impact on bioavailable radiogenic strontium isotope ratios in coastal environments. Journal of Archaeological Science: Reports 33: 102462. https://doi.org/10.1016/j.jasrep.2020.102462.