Image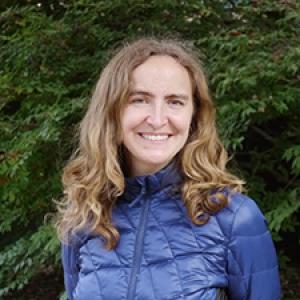 Valentine Cadieux
Associate Professor-Anthropology, Director of the Center for Justice and Law; Director - Exempt
Work space:
St. Paul Main Campus > Drew Science Center > DSC 120
Valentine Cadieux is the Director of Environmental Studies and Director of Sustainability at Hamline University. Professor Cadieux received her PhD and MA in Geography from the University of Toronto after completing an AB in Visual and Environmental Studies at Harvard and Radcliffe Colleges. Professor Cadieux studies collaborative knowledge practices related to food, agriculture, and land in the context of settler society cultures in Canada, the United States,and Aotearoa New Zealand. She is currently working on the FoodShed, a collaborative online workshop and field guide to food movement efforts, and an accompanying podcast called Eating Together - find more at foodfieldguides.com!
Professor Cadieux's teaching and research methods combine fieldwork with collaborative approaches to understanding relationships between sustainability goals and everyday material and representational practices. Valentine combines scholarship with public collaboration to address social and environmental challenges. She uses the campus as a laboratory, and the classroom as a base camp for field studies of the food and material systems that support campus life and the surrounding environment and neighborhood.
Classes with Valentine usually involve a range of different methods for field study and experiential learning, often in collaboration with people whose knowledge cultures tend to be marginalized in formal education systems. Relying on publicly-engaged participatory learning processes, her classes explore the implications of policy, activism, and decision-making processes related to society and environment relationships. Valentine appreciates opportunities to learn outside the classroom, and encourages students to find real audiences for their work, so that they can learn alongside the people whose knowledge they're studying.
Her goal as a teacher and community leader is providing learners with new sets of lenses and tools with which to see and shape their everyday environments and engagements with food systems. Valentine challenges people to explore the forces that shape the material landscapes and social relations linked to their everyday lives and to discover their own relationship to issues of agency, politics, and change that shape the environments we live in.
Areas of Interest
Professor Cadieux's research and classes are organized around three main themes:

Food system improvement dialogues: How do people with differing strategies for supporting or improving the health and sustainability of food systems interact? How do different frameworks for translation mediate encounters between these different constituencies or sectors of food systems? What are the functions of different strategies for framing and representing the central tensions and contradictions related to contemporary and historical problems in food system governance?

Green infrastructure, community food security, agroecology, and urban food soil: How do social organizations create and respond to land-use changes, such as those involved in the processes of urbanization and urban land use management? How is the legitimacy of food production negotiated as an urban or urban-edge land use? How can collaborative processes for planning land use and institutionalizing healthy food systems be integrated to construct and maintain greenspace that addresses persistent and differential issues of environmental stress, productive land access, rural-urban migration pressure, and sustainability in urban ecology?

Human activities have problematically concentrated nutrients and wastes in urban areas, and the management of persistent and emergent food-related land uses has treated these largely in terms of the potential contamination of foods. Less is known about the landscape-scale possibilities of food-producing green infrastructure, including the potential of common gardening methods and other food land uses for building soil structure and organic matter and intercepting water and nutrient flows. This line of research considers dynamics of urban food soils with a goal of bringing together scientific tools with popular "citizen science" to understand urban food soils in socioecological context.

Practicing sustainability: Sustainability is commonly understood to be a necessary feature of practices that bring desirable aspects of social organization into the future. Participating in the practice of sustainability is challenging, though, and requires constant negotiation about what is desirable, how social organization works, and how to approach the future. Organizing a long-term collaborative investigation of Hamline's sustainability practices, we use Hamline's approach to sustainability - the conditions under which all people can thrive in the long term - as an analytical framework for understanding how people engage in the practice of sustainability.

The projects of the Sustainability Office and the Food and Society Workshop aim to create collaborative exploration, documentation, and analysis platforms for action research on society and environment topics carried out with students and community members.