Image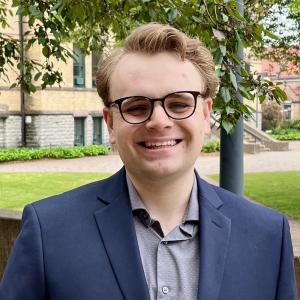 Evan Almeida
Academic Advisor
Work space:
St. Paul Main Campus > Bush Memorial Library > Bush Memorial Library BML 28C
Evan Almeida works as an academic advisor in the Center for Academic Success and Achievement (CASA) at Hamline University. Evan is a licensed K12 teacher, and through his experience in teaching he knows that every student needs a fierce advocate for their dreams because nothing matters more to an educator than students' growth and achievement. Evan is committed to using student-centered approaches to assist every student with discovering their passions, strengths, and goals for lifelong learning. In his spare time, Evan can be found performing stand-up comedy, playing with his three dogs, or running tabletop games.
Before Hamline, Evan was serving as an eighth grade Integrated Language Arts teacher of record in Oakdale. In this position he worked with students, parents, and educational colleagues to build an inclusive curriculum & community, foster a love of learning, and develop collaborative strategies for student achievement. Prior to that, Evan was seventh grade ELA teacher in Louisville, Kentucky. In this position he served on the School-Based Decision Making Board, represented educators at the Kentucky Educator's Association, and developed a deep understanding of equity frameworks and socio-emotional health practices. He has a Bachelor of Arts in English and Philosophy from the University of Wisconsin–Madison, and a Master of Arts in Teaching with an emphasis in Secondary Education from the University of Louisville.