Neuroscience Major (BA, BS)
Strategies for studying the incredible complexity of the nervous system are continually being developed and expanded. At Hamline, you'll gain experience studying both biological and psychological approaches. By viewing neuroscience from multiple angles, you'll develop a layered approach to the nervous system while preparing for a broad variety of future careers.
In class, you'll learn experimental and laboratory methods of neuroscience research, with the opportunity to work alongside faculty mentors to conduct your own original research. Your courses will feature interactive learning opportunities with professionals in the fields of neuroscience, allowing you the chance to expand both your expertise and your professional network.
Student research opportunities
At Hamline, students starting as early as their first year participate in research with faculty, something normally reserved for graduate students at other institutions. 
The list of possible research projects is as varied as your interests. For example, picture yourself:
Investigating the neural substrates of social cognition using electrophysiology (EEG)
Using cognitive neuroscience tools and techniques to address questions about prejudice, belief, and doubt
Recording and experimentally manipulating electrical signaling events in the neurons of crickets and worms using electrophysiology
Studying the localization and function of novel regulators of nervous system development using chick embryos as a model system
Exploring the mechanisms of cell migration within the nervous system by culturing, staining, and imaging neural crest cells 
And during your research process, you'll collaborate with scientists at major research institutions, publish your research in academic journals, and present your work at regional and national conferences.
 
The neuroscience faculty at Hamline are amazing. Professors Bridget Jacques-Frickes and Eric Asp do a great job of providing different perspectives on the field."
Image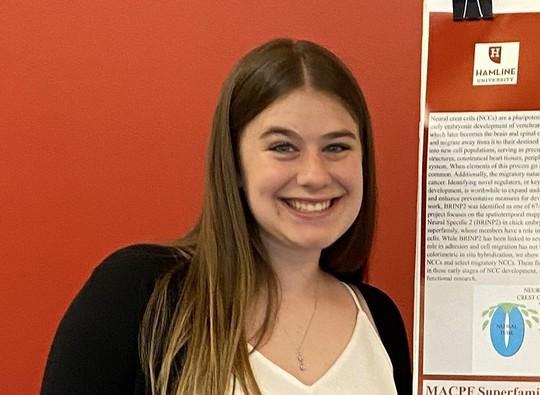 Internships for neuroscience students
We make sure you leave Hamline with work experience in the field of neuroscience on your resume. And the opportunities are boundless. Whether you want to explore a career in health care, clinical research, medical technology, or other fields, we have internship opportunities for you.
Examples of past neuroscience student internships include:
Minneapolis Veteran's Affairs Health Care System, research assistant
Partners in Excellence, behavioral therapist intern
Re'ese Adbarat Tserha Aryam Kidist Selassie Ethiopian Orthodox Tewahedo Cathedral, childhood disabilities programming intern
MRCI, personal care attendant
Woodwinds Hospital, emergency room volunteer
Hamline University Sports Medicine Facility, student medical assistant
Hamline's neuroscience program was a great fit for me because it allowed me to follow my passions and study both biology and psychology. The faculty were supportive in all of my endeavors throughout my undergraduate experience and continue to provide support as I work on building my career."
Explore career paths
Our innovative courses and one-on-one mentoring by faculty will give you the tools to succeed in a variety of jobs, such as:
Psychologist
Occupational, physical, or speech therapist
Physician
Licensed alcohol and drug counselor
Neuropharmacologist
Neurodiagnostic technologist
Biomedical researcher
Mental health worker
And you can explore careers in many different fields, such as:
Health care
Medical research
Psychotherapy and counseling
Criminology
Education
Community outreach
Social work
Take your studies further with graduate school
Our graduates have gone on to medical and graduate schools across the country in the pursuit of master's and doctoral degrees. Examples of programs and schools include:
Doctor of Medicine (MD), University of Minnesota
School of Dentistry, University of Minnesota
Family Social Science MA/PhD Program, University of Minnesota
Doctor of Nursing Practice Program, University of Massachusetts Medical School
Doctor of Osteopathic Medicine Program, Rocky Vista University