The study of chemistry is a study of how the world works. As you study how atoms, molecules, and interactions underpin the world around us, you'll develop technical skills—from developing and running experiments to analyzing data and presenting persuasive reports—that will propel you to success in any career path you pursue.
A Hamline chemistry degree is a gateway into a wide variety of careers not just in chemistry but in biology, health, forensics, manufacturing, government, law, and business. Companies are eager to hire candidates with chemistry backgrounds as more industries are tackling challenges related to energy, food, and climate in their fields.
We're dedicated to giving you a solid chemical education with numerous hands-on research opportunities. Our faculty conduct research across a wide range of fields, and you'll collaborate with them to join or create a research project that interests and excites you.
Image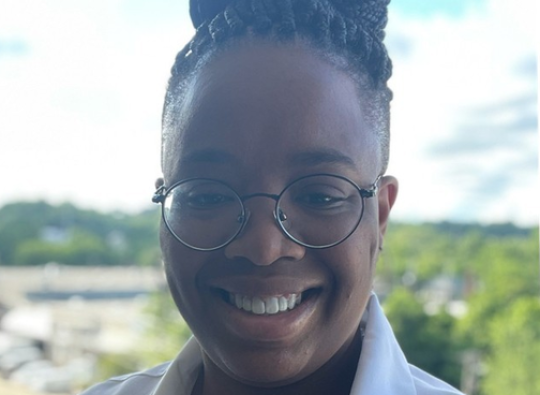 I committed to Hamline the first day I visited campus. It seemed like I could really learn and grow here—it just felt like home."
Internships for chemistry students
We make sure you leave Hamline with work experience in the field of chemistry on your resume. And the opportunities are boundless. Whether you want to explore a career in chemical engineering, industrial design, environmental science, or more, we have internship opportunities for you.
Past chemistry students' internships have included:
Defense Forensic Science Center, research intern
Fairview Ridges Hospital, pharmacy technician intern
John Glenn Middle School, AVID tutor
LabCorp, clinical access lab assistant
Medtox Laboratories, specimen processing intern
Midwest Medical Examiner's Office, intern
Minnesota Bureau of Criminal Apprehension, toxicology intern
3M Electronic Materials and Solutions Division, quality intern
Student research opportunities
At Hamline, students participate in research with faculty as early as their first year, something usually reserved for graduate students at other institutions. You'll design and conduct your own research project based on your individual interests and goals.
The list of possible research projects is as varied as our students. For example, picture yourself:
Identifying molecules related to disease and the detection of biomarkers
Designing new biodegradable polymers for ecologically friendly consumer uses
Testing methods of detecting trace materials for forensics applications
Experimenting with surface compositions to control wetting behaviors
During your research process, you'll collaborate with scientists at major research institutions, publish your research in scientific journals, and present your work at local, regional, and national conferences.
Each summer, 10–15 students participate in the chemistry summer research program. Applications are open in the spring term of each year. Academic year opportunities are also available. Contact a faculty member if you are interested in pursuing on-campus research.
Explore career paths
Our innovative courses and one-on-one mentoring by faculty will give you the tools to succeed in a variety of jobs, such as:
Toxicologist
Water quality technician
Forensic scientist
Geochemist
Materials scientist
Oceanographer
Environmental consultant
You can also put your degree to work in any number of fields, including:
Crime lab research
Agricultural chemistry
Consumer product management
Food and flavor chemistry
Biotechnology
Water and pollution management
Take your studies further with graduate school
Our graduates have gone on to graduate schools across the country in the pursuit of master's and doctoral degrees. Examples of programs and schools include:
PhD in chemistry, University of Oregon
MD, Mayo Clinic Alix School of Medicine
Doctor of Pharmacy, University of Minnesota Twin Cities
PhD in Chemistry, University of California Berkeley