Your English degree will drive your creativity, critical thinking and persuasive writing to new heights as you examine how communication shapes our world and learn how to affect change with the power of your writing. Hamline's English department centers on practical core skills that align to your own personal, professional, and civic aspirations, and you'll shape a personalized course of study grounded in career-oriented abilities that will set you apart in hiring and creative endeavors alike.
All students engage in coursework at the junctions of analysis, creative and professional expression, and purposeful advocacy. You'll grow as a critical thinker and writer and develop a unique path of your courses and experiential learning experiences, both individually and in collaboration with your peers, with faculty mentors to help you tie your learning to your professional objectives.
Your courses might explore the ways mental illness appears in popular culture; how digital design impacts users; how speculative fiction gives us different tools to interrogate race, sexuality, gender; how communication about land use can shape and distort our sense of shared histories and futures. You will undoubtedly write some essays, but you may also produce zines, podcasts, and marketing campaigns, and write grants and other materials that employers are looking for in their organizations.
English major and concentrations
English minors and certificate
Student research opportunities
At Hamline, students participate in research and community engagement with faculty as early as their first year, something usually reserved for graduate students at other institutions. You'll design and conduct your own research project based on your individual interests and goals.
The list of possible engagement projects is as varied as our students. For example, picture yourself:
Interviewing neighbors to develop service journalism and public history projects that tell stories of marginalized communities
Serving as a writer, artist, or editor in the student-centered media organizations, including The Fulcrum, Untold Magazine, or The Oracle newspaper
Analyzing the structure of mass-market memoirs about adoption through the lens of the politics of adoption and foster care in the US
Interrogating how narratives about characters with disability continue to marginalize the voices of people with disabilities and suggesting a vision of what inclusive, equitable representation can look like
Studying how zombie narratives have changed from the mid-twentieth century to today and writing a feature film-length script based on the results
Researching young adult fantasy trends to produce a draft of a novel and an inquiry letter for literary agents
During your research process, you'll collaborate with researchers at major research institutions, publish your research in academic journals, and present your work at local, regional, and national conferences.
There are always professors ready to help you pursue what you're interested in. They guide you and also let you have your freedom. My English professor, David Hudson, really encouraged me to shift a written project into an audio one inspired by a radio show that I hosted."
Image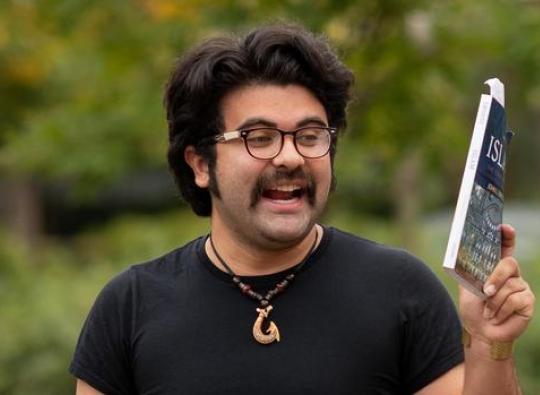 Internships for English students
We make sure you leave Hamline with work experience in English on your resume. And the opportunities are boundless. Whether you want to explore a career in creative writing, fundraising, law, advocacy, or more, we have internship opportunities for you.
Examples of past English student internships include:
Council for Advancement and Support in Education (CASE), advancement intern
Graywolf Press, publishing and editorial internship
Epic Games, data analyst intern
Green Card Voices, program intern
The Loft Literary Center, program intern
Explore career paths
Our innovative courses and one-on-one mentoring by faculty will give you the tools to succeed in a variety of jobs, such as:
Content writer and designer
Young adult literature editorial lead
Governor's office press secretary
High school English and creative writing teacher
Lawyer
Senior associate for global programs and learning design
Grantwriter and fundraising lead
Strategic development program manager
You can also put your degree to work in any number of fields, including:
Public relations
Journalism
Publishing
Law
Education
Digital marketing
Take your studies further with graduate school
Our graduates have gone on to graduate schools across the country in the pursuit of master's and doctoral degrees. Examples of programs and schools include:
MS in Scientific and Technical Communications, University of Minnesota
Master of Public Policy, Humphrey School of Public Affairs, University of Minnesota
MA in folklore, University of California, Berkeley
PhD in creative writing, University of Houston