International Undergraduate Student Admission

Find your home at Hamline
International undergraduate students from around the world find a home at Hamline University. We're defined by our values of social justice, inclusive leadership, and global service.
As Minnesota's first university, Hamline has been leading the way since 1854. Now it's your turn: Discover how Hamline University can help you take the lead with a college experience like no other.
Our strengths are represented through our diversity and high-impact learning. Our current undergraduate class comes from 39 states and 40 countries, with more than 40% of Hamline students identifying as students of color. With a student-to-faculty ratio of 13:1, we offer undergraduate programs in education, business, and the liberal arts and provide opportunities for real-world application. One hundred percent of our students participate in internships, field-based or collaborative research, apprentice teaching, and/or service learning. 
Hamline supports international undergraduate students
Are you ready to join a diverse group of scholars driven by curiosity and collaboration? Hamline's student body has a large number of international undergraduate students, and our dedicated staff is ready to answer your questions and provide one-on-one advising for before and when you arrive on campus. At Hamline, you direct your destiny—and we provide the momentum.
Inside the classroom and beyond: What to expect
When you're in the classroom, you'll learn from top-ranked professors and receive the Hamline academic experience. Take your studies higher by participating in our Honors Program and engaging in service learning. 
The learning opportunities don't stop when you walk out of the classroom. We provide undergraduate students with collaborative research, internships, a career development center, student activities, and leadership development so you can use your strengths in all areas of your life.
On- and off-campus life
Living on campus as an international undergraduate student offers many conveniences. You have your choice of settling into residence halls, apartments, or university-owned houses, and you can take advantage of cost-saving meal plans at our dining halls. Need to take a snack break? We have coffee shops, cafes, and convenience stores throughout the grounds.
For those who want to be active and build community, you have your choice of over 70 clubs and organizations, 22 NCAA Division III teams, six music ensembles, and a variety of club sports to join. We also have religious and spiritual groups, as well as counseling and health services for your well-being. 
When you feel the need to take an excursion off campus, a vibrant metro community of more than 180 city parks, 20 Fortune 500 companies, great restaurants, museums, sports centers, theatres, and outdoor recreation. Adventure awaits!
Invest in your future
Hamline is proud to offer competitive scholarship opportunities to our international undergraduate students. We will work with you and your family to make sure our school stays affordable throughout your four years.
Get an excellent education at an affordable price
Our student financial aid packages average $40K, and we also award a variety of scholarships based on academic excellence and extracurricular activities. International Merit Scholarships, for example, range from $5,000 to $23,000.
Visit and admission events
We'd love to meet you — in-person, or virtually.
Image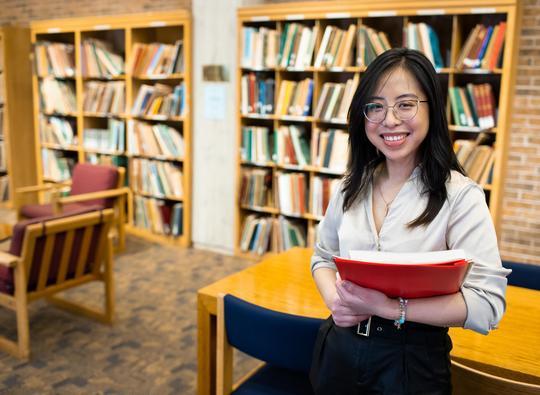 My classmates have taught me so much about cultural differences and tolerance, lessons I hadn't learned when I was in Vietnam. My professors are welcoming and kind—I can go to their office and talk ito them like family. They're supportive and have helped me develop my career."