Public Health Sciences Major (BA)
Public health policy changes the lives of people in every part of the world. It addresses broad issues that affect the health and wellbeing of individuals, families, communities, populations, and societies—now and for generations to come. When you study public health at Hamline, you'll contribute to solving problems on a local and global scale and help people live their lives to the fullest. 
Our department blends community engagement, research, inquiry, and action. You'll develop a broad professional, interpersonal, and scientific skill set that will propel you to success in any career you choose, and you'll work with experts and community stakeholders across disciplines, backgrounds, and perspectives to uncover the roots of health problems and develop systemic solutions that improve everyone's quality of life.
Your public health sciences classes are built on a foundation of health equity and social justice, and you'll have many opportunities to work with our local and regional communities in engaged research projects. You'll experience what it's like to collaborate with your community, integrate a wide variety of goals and needs into your work, and make a real contribution to a pressing need in our world.
 
Student research opportunities
At Hamline, students participate in research with faculty as early as their first year, something usually reserved for graduate students at other institutions. You'll design and conduct your own research project based on your individual interests and goals.
The list of possible research projects is as varied as our students. For example, picture yourself:
Creating community outreach activities for community partners including the Family Tree Clinic, Urban Farm and Garden Alliance, Hamline Food Resource Center, Minnesota Department of Health, and Rainbow Health
Collaborating with the Minnesota Department of Health, Hmong Town Market, and regional college Hmong student associations to prevent mercury poisoning caused by skin lightening products among Hmong women and infants
Conducting community-engaged research with Open Cities Health Center and the Urban Farm and Garden Alliance (UFGA) in order to identify patients who would benefit from a garden 'prescription,' filled by UFGA, to provide patients with all the materials and support needed to begin growing vegetables
Leading focus groups and analyzing data to create outreach deliverables in the Prison Birth Storytelling Project, a collaboration of the Ostara Initiative, Minnesota Prison Doula Project, and Alabama Prison Birth Project to end prison birth in ten years
During your research process, you'll collaborate with scientists at major research institutions, publish your research in scientific journals, and present your work at local, regional, and national conferences. 
Studying public health at Hamline was one of the best choices I've made. From my first course to my senior research project, I learned skills that helped me get a job doing something that I love—researching and analyzing data on children's wellbeing."
Image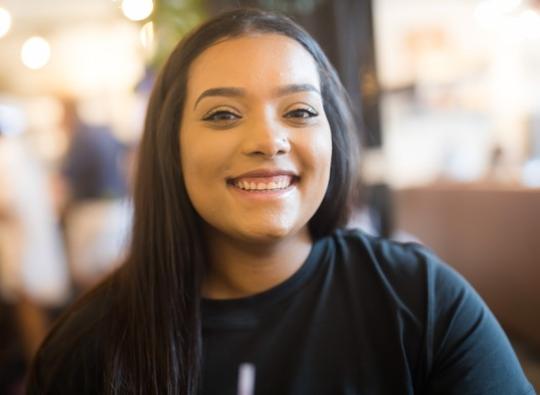 Internships for public health sciences students
We make sure you leave Hamline with work experience in the field of public health on your resume. And the opportunities are boundless. Whether you want to explore a career in public policy, community medicine, health education, or more, we have internship opportunities for you.
Examples of past public health sciences student internships include:
ShiftMN, healthcare intern
360 Communities, food shelf intern
Women's Resource Center, outreach and advocacy intern
Minnesota Department of Health, epidemiology unit intern
Minnesota Department of Agriculture, dairy and meat inspection intern
Partnership for Permanence, program coordination intern
Hmong American Partnership, health and wellness intern
Minnesota Youth Collective, campus organizer intern
Urban Farm and Garden Alliance, GrowRx program intern
Alzheimer's Association, diversity and inclusion intern
Twin Cities Mobile Market, community outreach intern
Minnesota Autism Center, intern intake assistant 
Philippines Maternity Clinic, midwifery intern
Explore career paths
Our innovative courses and one-on-one mentoring by faculty will give you the tools to succeed in a variety of jobs, such as:
Educational equity specialist
Health education specialist
Community health consultant
School health educator
Maternal health specialist
Community health project coordinator
Health policy analyst
Public health advocate
Disease prevention specialist
Research and evaluation assistant
Human resources manager
Public service aide
You can also put your degree to work in any number of fields, including:
Public education outreach
Health and risk assessment
Wellness coaching
Emergency preparation
Occupational health and safety
Global health and disease prevention
Take your studies further with graduate school
Our graduates have gone on to graduate schools across the country in the pursuit of master's and doctoral degrees. Examples of programs and schools include:
Master of Public Health, University of Minnesota  
Master of Public Policy, Harvard Kennedy School
Master of Public Health, New York University
Master of Public Health, George Washington University
Public Health Sciences Department