You'll dive into a wide range of topics from genetics to sustainability with Hamline's biology department. With personalized attention from our faculty, and extensive research and internship opportunities, you'll graduate with the tools and skills you need for a meaningful career. Hamline's biology programs will prepare you for the field that ignites your passion, from medicine and conservation biology to biotechnology and clinical research in the pursuit of cures for disease. 
Bachelor of Science major and concentrations
Student research opportunities
At Hamline, students participate in research with faculty starting as early as their first year, something usually reserved for graduate students at other institutions.
The list of possible research projects is as varied as your interests. For example, picture yourself:
Investigating the impact of mutations on protein function and structure
Searching for potential anti-cancer drugs in microbial flora
Employing bioinformatics and data mining to study microbiomes and protein families
Searching for antibiotic-producing microbes in diverse environments
Investigating the microbial degradation of pharmaceuticals 
Developing policies on management of natural resources
During your research process, you'll collaborate with students from institutions around the country, publish your research in academic journals, and present your work at regional and national conferences.
Learn more about undergraduate research at Hamline
Biology summer research program guidelines and application (Google Site)
I found my community in the Hamline biology department. With my professors' mentorship, mock grad school interviews, and hands-on lab work, I gained the skills I need for a career in epidemiology. Now I'm using those tools in graduate school."
Paid internships for biology students
We make sure you leave Hamline with work experience in the field of biology on your resume. And the opportunities are boundless: Whether you want to explore a career in veterinary medicine, environmental science, biotechnology, medicine, or other fields, we have paid internship opportunities for you.
Examples of past biology student internships include:
American Red Cross, biomedical communications intern
Alternatives for People with Autism, living skills Instructor
MN Department of Health, intern
Minnesota Bureau of Criminal Apprehension, forensic science service intern
Medtox Laboratories, toxicology lab assistant
OneOme, clinical laboratory intern
University of Minnesota, mouse behavior core assistantship
Blue Cross Animal Hospital, veterinary assistant
Como Park Zoo and Conservatory, animal support intern
Wildlife Rehabilitation Center of Minnesota, intern
Twin Cities Orthopedics, physical therapy tech
Xoua Thao Medical Center, medical intern
Regions Hospital, surgical assistant
Walgreens, pharmacy technician
I came to Hamline, did the informational meeting, took a tour, and loved it. Right before orientation, I changed everything from the U, completely flipped it around, and was just barely able to register for orientation here. It felt more right."
Image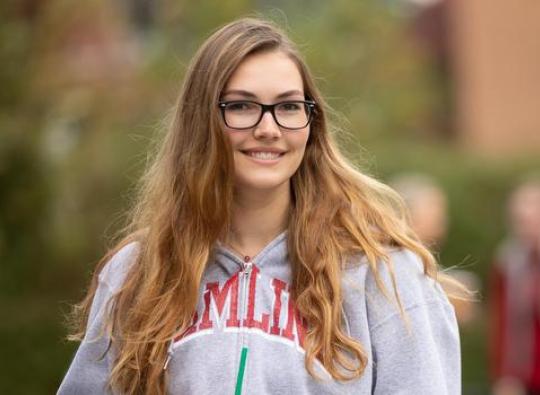 Explore career paths
Our innovative courses and one-on-one mentoring by faculty will give you the tools to succeed in a variety of jobs, such as:
High school biology teacher
Pharmacist
Journalist, science communication
Interpretive naturalist
Genetic counselor
Scientist and product developer (in biotechnology or genomics company)
Forensic scientist
Pediatrician or other medical doctor
And you can explore careers in many different fields, such as: 
Veterinary medicine
Health care
Natural resources management
Agricultural biotechnology
Medical research
Intellectual property law
Personalized genomics
Biomedical and pharmaceutical sales
Take your studies further with graduate school
Our graduates have gone on to medical and graduate schools across the country in the pursuit of master's degrees, PhD's, and MDs. Examples of programs and schools include:
Rollin's School of Public Health, Emory University, Atlanta, Georgia
Schools of Pharmacy, Dentistry and Medicine, University of Minnesota - Twin Cities Campus
Synthetic and Physical Biology program, Rice University, Houston, Texas
Physician Assistant Program, College of Medicine and Science, Mayo Clinic, Rochester, Minnesota 
BioTech & Microbial Engineering program, University of Minnesota - Twin Cities Campus