Image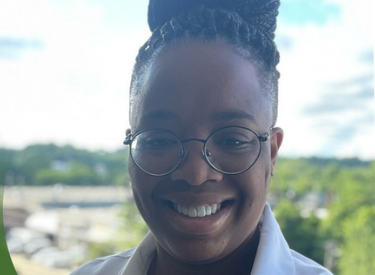 For this pre-pharmacy alum, success takes teamwork
Jessica Beamon '17 has seen her path with clear eyes since she was 13 years old. That's when she first learned about pharmacy as a career path. Even as a seventh grader, its unique blend of chemistry, medicine, and patient care captured her interest.
Now a fourth year PharmD student at Chicago State University College of Pharmacy, Beamon's Piper journey began with her official visit to Hamline as she was courted by the basketball team. Beamon was impressed by the sense of community on campus and the coaches' and professors' dedication to helping student-athletes achieve their best results on the court and in the classroom.
"I committed that day," she said. "It seemed that I could really learn and grow there. It just felt like home."
Communication and connection are really big. To get where you want to go, you need to meet people. You don't get there by yourself."
Beamon's campus community sustained her as she grew in her chemistry studies. She built friendships with her teammates and roommates, and became a residential hall advisor, forging relationships that added fun to her busy schedule of academics and basketball.
Eventually, Beamon turned her gaze to growth beyond Hamline's halls. When she decided it was time to step out of the classroom and into an internship, she used the Career Development Center's resources to contact alumni who might help her find an internship.
"It was a Sunday night," she recalled. "I sent 10 to 15 emails, and I got one back. It was from a doctor who graduated from Hamline—and he played basketball."
That email turned into an internship at the Mayo Clinic in Rochester, Minnesota, and then another one at a school of pharmacy in South Carolina, Beamon said. Those experiences, in addition to her expert time management as a student athlete, have helped her succeed in her pharmacy studies.
As she looks ahead to her career after her residency, community still guides Beamon's goals. She hopes to work in a hospital, where she'll stay connected to patients throughout their journey of recovery.
"You can see the whole process of a patient, from their sickest to their transition back into regular life," Beamon explained.