Meet Vassiliki Prattas '16
Image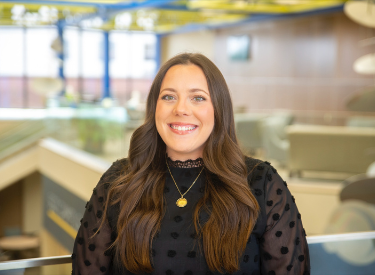 A few twists of fate led this biochemistry alum to her passion
Dr. Vassiliki Prattas '16 didn't have her eye on optometry when she first arrived at Hamline; rather, it was something she "discovered along the way," said the biochemistry graduate.
Prattas grew up in south Florida and was recruited to Hamline as a volleyball player. She'd always been interested in science and health, Prattas said, "but I didn't know what I wanted to do. I was still on the fence of going to pharmacy school or possibly doing research."
She got an early taste of the research life when she earned the 3M and Ronald A. Mitsch scholarship. "It definitely helped take the pressure off" of her financial needs, Prattas said, "and I was also able to work closely with Dr. Mitsch on the Mitsch lectures. It was a cool opportunity to mesh my interests, to take my job and apply it to my academics."
My time at Hamline was everything that I could've hoped for. I gained so much educational knowledge and became a better scientist and student. Most importantly, I felt a huge amount of support from the staff and faculty and peers at Hamline that allowed me to grow and flourish as a person."
As fate would have it, a sports injury was what sent Prattas on the path toward optometry. A volleyball hit her in the eye during practice one day and she suffered a serious concussion. The optometrist's office became a second home during her recovery, and as Prattas became familiar with her doctors, she found herself drawn toward the science and medicine of vision. (And don't worry—she made a full recovery and played volleyball all four years!)
One more unlikely intersection sealed her future: After graduating from Hamline, Prattas traveled through Europe with a friend and found themselves on a tiny Greek island with a group of optometry students. 
"From that moment forward, I thought it was fate. I knew it was something I had to chase," Prattas recalled.
Once Prattas uncovered her interest in optometry, "I hit the ground running," she said. She knew it would be tough to see her friends beginning careers while she undertook four years of postgraduate education and a residency after that. However, while she was impatient to take flight in her field, she doesn't regret the time she spent in school. 
"I've set myself up for a good future," Prattas explained. "Investing in yourself for those five years is a really good idea."
Prattas is now a resident at Nova Southeastern's College of Optometry in Fort Lauderdale, Florida, where much of her work involves talking to students about "why I ended up here and how I got through school," she said. She's looking forward to a future as a faculty member at a university, and a lot of that has to do with her experience at Hamline.