A few twists of fate led this alum to her passion
Image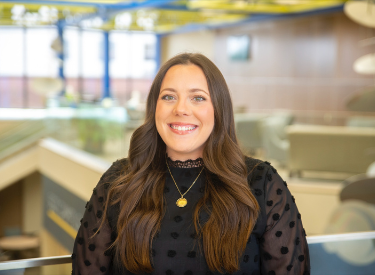 Dr. Vassiliki Prattas didn't have her eye on optometry when she first arrived at Hamline; rather, it was something she "discovered along the way," said the biochemistry graduate of 2016.
Prattas grew up in south Florida and was recruited to Hamline as a volleyball player. She'd always been interested in science and health, Prattas said, "but I didn't know what I wanted to do. I was still on the fence of going to pharmacy school or possibly doing research."
She got an early taste of the research life when she earned the 3M and Ronald A. Mitsch scholarship. "It definitely helped take the pressure off" of her financial needs, Prattas said, "and I was also able to work closely with Dr. Mitsch on the Mitsch lectures. It was a cool opportunity to mesh my interests, to take my job and apply it to my academics."
My time at Hamline was everything that I could've hoped for. I gained so much educational knowledge and became a better scientist and student. Most importantly, I felt a huge amount of support from the staff and faculty and peers at Hamline that allowed me to grow and flourish as a person."
SVG
Start your application
No matter what kind of student you are, you'll find everything you need to get started with your application. 
SVG
Get more information
It's easy to get the information you're looking for. Tell us about yourself and we'll share all about Hamline. 
SVG
Schedule a visit
From on-campus tours to virtual meetings and events, you're invited to discover what makes Hamline special.