Meet Egypt Kosloski MAT '22
A passion for knowledge drew this educator back to education
Egypt Kosloski '22 cast her net far and wide when she decided to go back to school and earn her Master in Arts of Teaching.
Image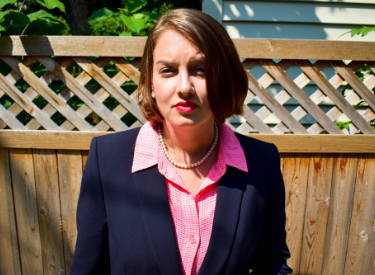 "It was a huge deal to go back to school. I looked into every initial teaching licensure program that I could drive to in a reasonable amount of time in the state," Kosloski said. She narrowed it down to Hamline University and the University of Minnesota, and it was Hamline's flexibility and understanding of her needs as a professional with a full-time job.
 
Hamline was so helpful when I was talking about my credits and seeing what would transfer. They laid out a whole plan for me for how long it would take—I could do it in 18 months. The classes were all at night, so I didn't have to quit my job. The convenience of everything was really what I needed."
Though her career has twisted and turned on unexpected paths since she entered the workforce, Kosloski has always been interested in education. Her original goal was to become a college professor, and toward that end, she earned a Master of Fine Arts in creative writing and publishing from the University of Baltimore in 2017. She also has a talent for graphic design, which kept her occupied as a freelancer for the better part of a decade. However, teaching pulled her back toward school once more. 
"I've been going back and forth about getting my teaching license for English for years and years, and I've almost done it three times," Kosloski said. Eventually she sat herself down and decided, "if I ever want to teach, now's the time to do it."
Kosloski is drawn to teaching middle school, an age of rapid growth and self-exploration. "Kids have it hard right now. I just like spending time with them. Sometimes they're a little emotional and all over the place, but for me that's a great part of it," she said. "I love talking about literature and helping students connect, whether that's connecting with each other in a classroom or finding a kid a book that they'll really love." 
Though it was easy for Kosloski to find her niche, she has observed her peers struggle to find a track that meshed well with their desire to teach. Her advice to people interested in teaching is to think outside the stereotypical kindergarten through high school teaching track, and consider adult basic education and teaching English as a second language.
"People get lost in where they want to teach and how," Kosloski said. "There's way more ways to teach than maybe you're aware of, and Hamline can help with that."
At the moment, Kosloski is completing her pre-student teaching classroom observations and will become a student teacher at Murray Middle School in Saint Paul in the fall. Even before she's graduated, she can feel the benefits of the networking she's doing in class and in the field.
"I'm making a lot of connections for when I apply for jobs," she said. "Our professors are always connecting us with opportunities, and if I wanted a job right now, I could probably get one."