Image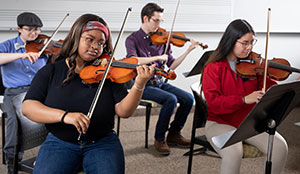 Find your music community
Whether you're studying music or another subject, you can audition for a spot in one of Hamline's music ensembles. You can also pursue individual study in private lessons with our talented mentors and educators.
Ensembles at Hamline
A Cappella Choir

Hamline's A Cappella Choir has toured nationally and internationally and performed on recordings, radio, and television. Our singers have premiered works of several renowned composers and received acclaim for their dynamic interpretations of choral masterworks. The choir tours America every two years and tours abroad every four years. Our choir has received accolades from critics around the world wherever we travel.

Combos and chamber music

Ensembles of three to seven musicians meet weekly in independent rehearsals and supervised coaching sessions with music faculty. The program includes classical, jazz, contemporary, ethnic, and folk ensembles.

Hamline Studio Singers

Students in the Studio Singers perform contemporary vocal music and practice a variety of styles and effects. Students improvise, sing solo parts and back-up harmonies, work with a sound system and computer-based recording technologies, and collaborate with a rhythm section.

Jazz Ensemble

Students in Jazz Ensemble rehearse, study, improvise, and perform music in a wide range of classic and contemporary jazz styles. Open to instrumentalists within the standard jazz orchestra score: saxophones, trumpets, trombones, piano, guitar, acoustic/electric bass, drum set, vibes/percussion. Other instruments will be considered by request of the director; vocal soloists by director's invitation only. 

Orchestra

Hamline Orchestra is a 20-member ensemble with full string sections, pairs of woodwinds, and partial brass and percussion sections. The repertoire includes symphonies, concertos, suites, and other symphonic works from Baroque to 20th century composers like Bach, Vivaldi, Mozart, Beethoven, Schubert, and Brahms.

Wind ensemble

Hamline University Wind Ensemble, the University's concert band, consists of 30-40 woodwind, brass, and percussion players who are both music majors and non-majors. The Wind Ensemble performs 3-4 concerts per year.