More than 150 people attended in person with hundreds more watching online as Hamline University held the Academic Freedom and Cultural Perspectives event on Tuesday, Sept. 12 at the Anderson Center. The event featured leading voices on these issues, including Dr. Michael Eric Dyson and Robin DiAngelo.
The speakers discussed the concept of academic freedom as defined by the American Association of University Professors in 1940 and how diverse perspectives are integrated into academia. Both are key elements in the challenges facing higher education today.
"Our goal is to locate the realities of today in a way that recognizes and appreciates the world in which we live – a world that is very different than what existed in 1940 and the years beyond," President Fayneese Miller said in her opening remarks. "While I argue, vehemently, that academic freedom is something we in higher education all hold in trust – that we cherish and protect – I also argue that it must be nuanced in ways that allow faculty to teach difficult material that encourages student growth, awareness and ability to generate new knowledge."
The morning started with a powerful keynote address by Dr. Michael Eric Dyson on the issues at hand, setting the table for the discussions that followed. Dyson spoke at length about how historic restrictions on freedom informed the principles of academic freedom as defined by the 1940 Statement of Principles on Academic Freedom and Tenure.
"When we look at the American academy, it is an unavoidable genealogy of the denial of opportunity and freedom for most peoples in this nation," Dyson said. "So when you conceive of academic freedom without people there, it's going to look a whole lot different when you get folk there."
Image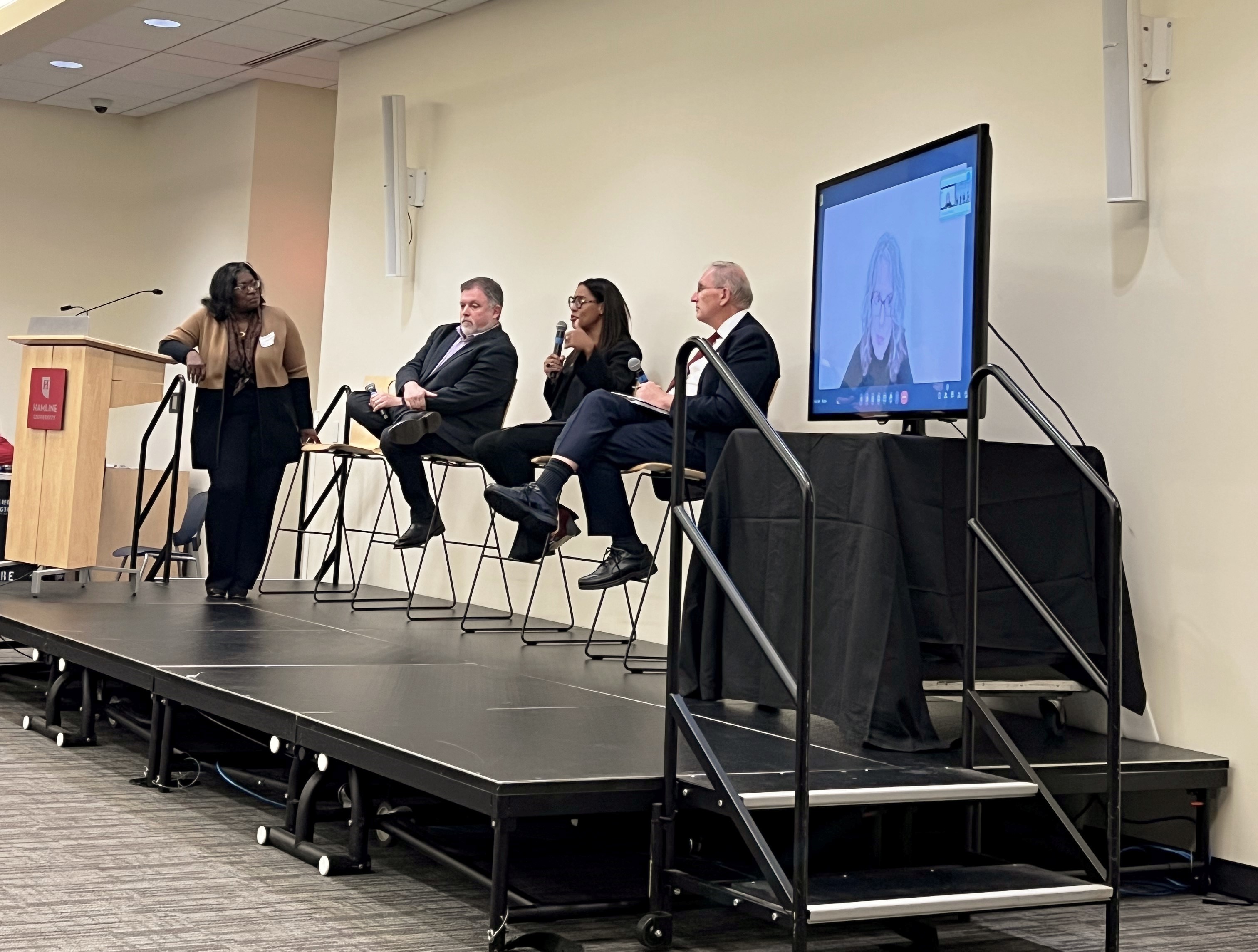 A nationally-recognized panel including Hamline's own Dr. David Schultz took part in a vigorous discussion of how academic freedom and diversity need not compete with each other in today's higher education space.
"There's an expression that says 'In theory, theory is always right; but in practice, theory is not always correct,'" Schultz said. "At the end of the day, the bottom line is what do we do in practice? What do we do when we really get down to reconciling diversity and academic freedom? I'm going to make the argument and say that they're not in opposition."
Dr. Stacy Hawkins, Vice Dean and Professor of Law at Rutgers Law School, used her legal background to speak about the concept of a living constitution – a belief that our interpretation of the US Constitution should evolve over time to adapt to new circumstances – and how that approach could be applied to academic freedom.
"We can have a living principle of academic freedom that continuously evolves to accommodate whatever new ideas, expressions or compositions we find ourselves enmeshed in in the academy," Hawkins said.
Following the panel discussion, guests engaged in tabletop conversations further discussing the ideas presented that morning. Conversation summaries and closing remarks by President Miller concluded the event.
Hamline University thanks everyone who took part, watched and cared enough to take an active role in making this event a thought-provoking success.