To find fulfillment, this alum first had to find balance
Image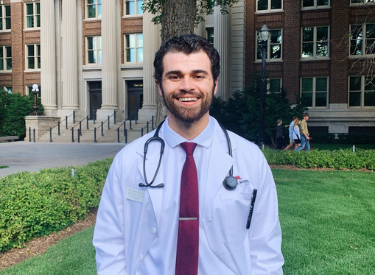 Justice Spriggs, a Hamline chemistry graduate of 2019, is an expert at taking two passions and merging them into one. As a science-minded kid in a family of teachers, he wanted a way to blend the joys of education and his fascination with chemistry; as a talented football player, he knew he'd have to balance his passion for the sport with his long-term career goals.
When Hamline football coaches reached out to recruit Spriggs as a high schooler and began attending his games, he decided to tour campus and found that Hamline was a place where he could pursue his academic and athletic goals with ease. "They showed me it was possible to do both," he said.
He dove headfirst into campus life, joining the student chemistry and pre-health clubs and starting a student-athlete health and wellness initiative in his spare time. Balancing his football schedule with his chemistry studies was a challenge, Spriggs recalled, but his professors and coaches worked with him to balance academics, athletics, and work. His coaches and professors like Betsy Martinez-Vaz (a biology and biochemistry professor) and Larry Masterson (a former chemistry professor) provided much-appreciated help, Spriggs recalled. He also applied for and received financial aid that helped him focus on his studies.
My professors were so helpful to my journey. And the scholarships were definitely helpful in relieving some of the financial burden of my academics."
SVG
Start your application
No matter what kind of student you are, you'll find everything you need to get started with your application. 
SVG
Get more information
It's easy to get the information you're looking for. Tell us about yourself and we'll share all about Hamline. 
SVG
Schedule a visit
From on-campus tours to virtual meetings and events, you're invited to discover what makes Hamline special.