Image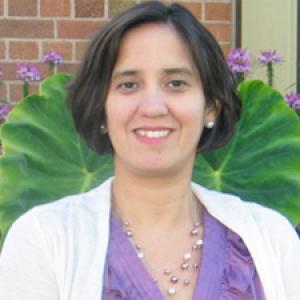 Betsy Martinez-Vaz
Professor - Biology; Program Co-Directors - Biochemistry - Betsy Martinez
Work space:
St. Paul Main Campus > Robbins Science Center > RSC 109
Betsy M. Martinez-Vaz is an Associate Professor of Biology and the Co-Director of the Biochemistry Program at Hamline University. She grew up in Puerto Rico in a family of teachers, who valued education and academic achievement. Betsy holds a Ph.D. in Biochemistry and Molecular Biology from the University of Minnesota and a B.S. in Chemistry from Universidad del Turabo, Puerto Rico.
Dr. Martinez-Vaz leads a successful undergraduate research laboratory at Hamline University. In collaboration with investigators at the University of Minnesota, her research group is studying plant-microbe interactions relevant to nitrogen fixation and food safety, including genetic determinants relevant to symbiosis specificity in nitrogen-fixing bacteria and the model legume, Medicago truncatula. Her most recent project focuses on investigating the transcriptional responses of enteric pathogens during survival and persistence in fresh leafy green vegetables.

Dr. Martinez-Vaz teaches courses in Biochemistry, Microbiology, Nutrition and Virology; she is also one of three Pre-Medical Advisor at Hamline University. She has also successfully mentored numerous students and faculty, both domestic and international, and gets immense satisfaction from seeing them graduate into careers in the fields of science, medicine and healthcare. She is committed to creating an enjoyable and goal based learning environment for her students that encourages curiosity for the basics of Microbiology & Biochemistry and their application to daily life. She is also an active member of the American Society for Microbiology and a section editor for the Journal of Microbiology and Biology Education.