Image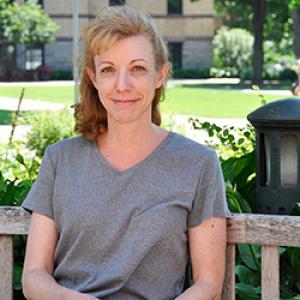 Kristina Deffenbacher
Professor - English
Work space:
St. Paul Main Campus > Giddens/Alumni Learning Center > Giddens/Alumni Learning Center GLC 233W
Kristina Deffenbacher is a professor of English and chair of the English department in Hamline University's College of Liberal Arts. Her teaching and scholarship are primarily in the fields of 19th-21st century British and Irish literatures and cultures, and gender studies and cultural studies. She has published articles and book chapters on subjects as diverse as the architecture of the mind in Victorian literature and culture, re-imaginings of Irish identity in Roddy Doyle's novels, and rape revenge narratives in contemporary fantasy fiction. Deffenbacher holds a BA in English from Carleton College and a Ph.D. in English and a Graduate Certificate in Gender Studies from the University of Southern California.
Students taking a class with Professor Deffenbacher will use the tools of literary study and the lenses of cultural theory to produce critical and creative analyses of texts. Working independently and collaboratively, students will develop the critical thinking, reading, and writing skills essential to engaged citizenship and professional success.
"Because literature is a space in which we engage our world's complexities and imagine other possibilities, it is an ideal ground for developing rigorous analytical practices and creative problem-solving skills." 
 -Kristina Deffenbacher