Image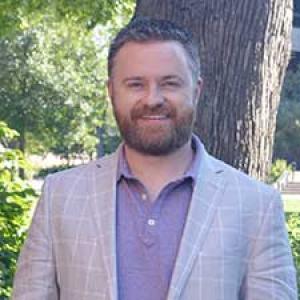 Erik Asp
Associate Professor - Psychology
Work space:
St. Paul Main Campus > Giddens/Alumni Learning Center > Giddens/Alumni Learning Center GLC 117W
Erik Asp is an assistant professor of Psychology in Hamline University's College of Liberal Arts. He is the director of the Wesley and Lorene Artz Cognitive Neuroscience Research Center. Dr. Asp's research interests are broad and multidisciplinary; he uses several cognitive neuroscience tools from the human lesion method to electroencephalography (EEG) to address a diverse array of questions related to social cognition. His central research interests concern the neural substrates of belief and doubt, egocentric biases, prejudice, event-related negativity (ERN), and prefrontal cortex function. Dr. Asp also examines how different neural regions and their associated cognitive/emotional functions are influenced by the aging process.
Dr. Asp received his Ph.D. in Neuroscience from the University of Iowa in 2012. Dr. Asp's dissertation garnered the University of Iowa's Graduate Dean's Distinguished Dissertation Award in 2014. Dr. Asp has also done postdoctoral work at the University of Chicago's Center for Cognitive and Social Neuroscience Lab investigating the neural bases of social and physical pain and at the University of Iowa's Psychiatry Iowa Neuroimaging Consortium Group researching functional connectivity abnormalities in schizophrenia.
Dr. Asp's didactic style pursues three learning goals: 1) learn basic psychological concepts; 2) develop critical thinking to not only personal generalizations, ideologies, and folk psychology but also to psychological methodologies and more established psychological concepts; 3) cultivate an interest in psychology.
"The beautiful thing about psychology is that it's about you. It's about why you laugh, why you don't want to study, why you buy lotto tickets, why you see the color purple in a violet, why your face gets red when the person next to you winks and smiles at you. Psychology contains big, unanswered questions as well: how can a 3 pound lump of meat create the feeling of being? That is, how can the brain make conscious experience? It's the questions of psychology, not only small and personal, but also deep and existential, that are endlessly alluring and fascinating."
-Dr. Erik Asp