Image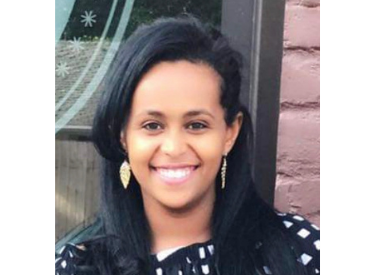 Taking risks and exploring new fields helped this biochemistry alum find her passion
When Selam Melka '07 stepped onto campus for her first year at Hamline University, she was 7,600 miles from her home in Addis Ababa, Ethiopia. 
Melka had focused on the Twin Cities during her college search, in part because her sisters already lived in Minnesota. After learning about Hamline's biochemistry major and receiving a generous financial aid offer, she packed her bags for Saint Paul.
"It was an interesting time because I was transitioning in a lot of aspects of my life," Melka said: From Addis Ababa to Saint Paul, from high school to college. Having family nearby helped, she added, and the people that she met at Hamline quickly became her community. 
"Hamline isn't so big that you don't know anybody, and it's not too small," she recalled.
She participated in a summer research project for the chemistry department, "mainly because I wanted to know if research was the place for me or not," Melka said. Though it was a transformative learning experience and fun to boot, she realized that research wasn't what she wanted to pursue as a career.
My professors helped me navigate my career decisions and gave me a lot of advice."
It was mentorship from her biochemistry professors, Rita Majerle and Betsy Martinez-Vaz, that helped guide her toward a path to pharmacy. Thanks to the tight-knit department, Melka knew that professors like Rita Majerle and Betsy Martinez-Vaz understood her strengths, curiosities and passions enough to help her find her way.
"They helped me navigate those decisions and gave me a lot of advice," Melka said.
"As the medication expert, it's rewarding to give that input to the team and see how you can impact a patient's care," Melka said. "It's way more rewarding than I thought it would be, and at the same time more challenging."
Her advice to students?
"It took me nine years to get where I am, so expose yourself to different fields before you make your final decision," she said.