Meet Sarah Johnson, MAED-NSEE '16
Image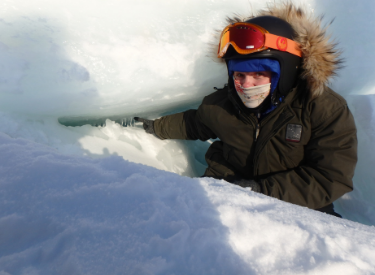 This Hamline alumna brings education to the Arctic
Starting this spring, environmental educator Sarah Johnson '16 is connecting the Arctic to the rest of the world by telling the story of a research team stationed in Utqiaġvik ("oot kay-ahg vik"), Alaska.
Johnson, who earned her Master of Arts in Education (MAEd) from Hamline in natural science and environmental education, joined the International Arctic Buoy Program as an outreach officer on March 27 for a two-week stint in northern Alaska. Her team deploys weather station buoys on drifting icebergs to gather data on weather, ocean currents, and sea ice, she said.
"These are not the kind of buoys that are on lakes in Minnesota," Johnson said. "We will be doing everything we can to get these buoys onto the largest icebergs we can find."
The Arctic project is a natural progression for the Hamline grad, whose master's thesis focused on investigating how biological field research stations around the U.S. build relationships through exemplary teacher professional development. She was drawn to Hamline after seeing multiple friends complete the environmental education program while managing full-time jobs.