Hamline University Archives
Hamline University's archives support the goals of Hamline University by identifying, collecting, preserving, and making available university records and personal papers of administrators, faculty, staff, and students for the use of the university community and the general public. Collections include student and alumni publications; course catalogs; minutes from various organizations (board, student groups, etc.); campus maps; artifacts; photographs; and audio and video recordings.
The archives is closed for the foreseeable future. Please contact University Librarian Terry Metz at 651-523-2160 for more information. 
Notable Online Content
 » Earth Day at Hamline - a retrospective YouTube video
 » Hamline University formerly offered a School of Law. View the historic Hamline School of Law Pictorial Collection from the Archives.
 » Many past issues of Hamline's student newspaper, The Oracle, are now available and searchable online. The years 1888-early 1900s and 1988-2015 can be accessed by going to The Oracle. More issues will come online in the future. Digitization of the 1988-2015 issues was funded in part with funds provided by the State of Minnesota from the Arts and Cultural Heritage Fund through the Minnesota Historical Society.
Explore Archival Digital Collections 
Image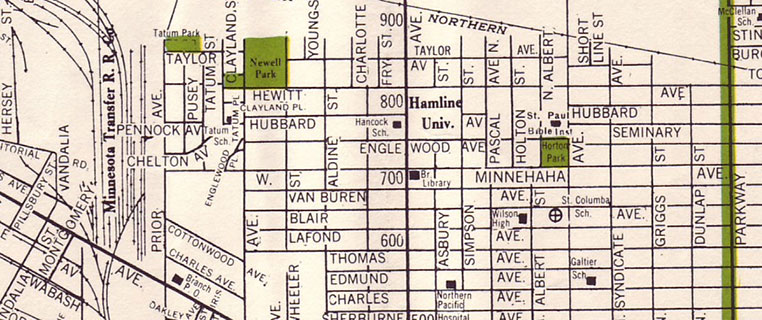 Hamline, Minnesota
According to Warren Upham's 1920 book, Minnesota Place Names: A Geographical Encyclopedia, the area in which Hamline University is sited was called the Hamline district. There was a Hamline post office from 1880 to 1891 near the university. Before 1873, the area was known as Johanna Crossing and, after Hamline acquired property for its campus, it was called College Centre, then College Place, and, finally, Hamline.

The archives collects materials related to Hamline, Minnesota, including images of the state fair grounds and of local businesses and organizations. If you would like to help build this collection, please contact the archives at 651-523-2080 or send an e-mail to archives@hamline.edu.