Image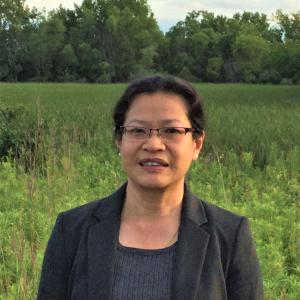 Suda Ishida
Professor - Communication Studies; Department Chair - Communication Studies; Department Chair - English
Work space:
St. Paul Main Campus > Giddens/Alumni Learning Center > Giddens/Alumni Learning Center GLC 220W
Dr. Suda Ishida is professor of Communication Studies and the director of the Certificate in International Journalism program. Born and raised in Bangkok, Thailand, Suda worked as a teacher in an Indochinese refugee camp run by the United Nations High Commissioner for Refugees (UNHCR) in Thailand right after her graduation. She went on to become a news reporter in several Bangkok-based media organizations, including The Nation daily newspaper and the Associated Press (Bangkok bureau). Professor Ishida earned an MA in international communication from Macquarie University, Sydney, Australia, and a PhD in Mass Communications and Journalism from the University of Iowa. Her research focuses on mass media in Thailand, globalization and social movements. Her courses at Hamline include Introduction to Critical Media Studies, Media in the Digital Age, Media in Global Perspective, Media and Global Environmental Conflicts, Intercultural Communication, and Global Advertising. She also writes in the Thai language as a columnist for a Thai non-profit media website called Media Inside Out.
Professor Ishida prefers a hands-on training/learning approach. Students in her class learn both theoretical and practical skills. Students learn to analyze media events and apply media theories to examine different issues from different perspectives. Media technologies such as blogging, Facebook and Twitter are also incorporated to enhance students' practical skills.
"Media have the power to inform and influence our society.  It is the citizens' right and responsibility to keep these media in check and demand them to be accountable. Democracy cannot survive without well-informed citizens."
 -Suda Ishida
"Framing Corporate Images: Green Advertising in Thailand," in Media Critics 2010 (Ankara, Turkey: TOBB University of Business, 2010).
Heightening Environmental Awareness as a Political Strategy: The Journalistic Construction of an Anti-Dam Movement by the Press in Thailand (New York: Edwin Mellen Press, 2007).
"Globalizing an Environmental Conflict: Thai Press and Pak Mun Dam," in Journal of International Communication, 8 (2002), 89-115.
"Migrant Workers: Myths or Reality?" in Mapping Globalization: International Media and a Crisis of Identity. In Naren Chitty (ed.), (Penang, Malaysia: Southbound, 2002).