Image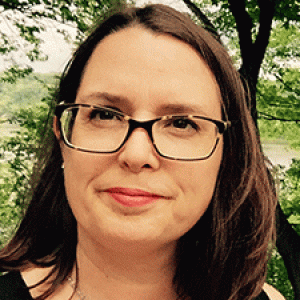 Shannon Cannella
Senior Lecturer - Modern Languages
Work space:
St. Paul Main Campus > Giddens/Alumni Learning Center > Giddens/Alumni Learning Center GLC 241W
Shannon M. Cannella 康珊珊 teaches courses in Chinese language, literature, and culture at Hamline University. Professor Cannella earned her M.A. and Ph.D. in East Asian Languages and Cultures from Columbia University in New York. Her areas of specialization include modern Chinese literature, Chinese poetry and poetics, and contemporary Chinese environmental literature and film. As Director of the Chinese language program at Hamline, Dr. Cannella oversees the Chinese minor and the Certificate of Proficiency in Chinese in addition to coordinating cultural activities, language tutors, and advising students on study abroad options. Before coming to Hamline, Professor. Cannella taught at St. Olaf College, Gustavus Adolphus College, and Winona State University.
Dr. Cannella's research focuses on questions of self, other, and community in modern Chinese literature.  Her early work on Shen Congwen (1902-1988) and Zhang Ailing (1920-1995) explored ways that narrative acts of listening and perception function as markers of intellectual openness, critical to the construction of empathetic modern identities capable of negotiating class, gender, and ethnic differences.  In the area of Chinese environmental literature, the role of the writer as a listening subject, as an agent of observation, takes on particular importance in the Chinese context.  Chinese writers of ecoliterature ask their readers: how well do we really know a place, in what way is that knowing shaped by subjective factors such as memory, history and ethnic or linguistic understandings?  As importantly, how do our ways of knowing influence our ability to care or take action with respect to environmental protection?  Dr. Cannella writes about the philosophical side of Chinese ecocriticism: how writers draw upon Confucian, Taoist, and Buddhist concepts while simultaneously engaging with global environmental discourse.
Chinese does not have to be a difficult language to learn, says Professor Cannella. By employing strategies that reinforce the underlying logic of Chinese sentences and by teaching the components that make Chinese characters easier to learn and remember, Dr. Cannella has a track record of leading students to high levels of language proficiency and linguistic competence. In addition, by making her classroom an energetic and supportive learning environment, students build oral communication skills on a daily basis. Professor Cannella has also been a staff member at Sen Lin Hu, Concordia Language Villages' Chinese village, for six years. Learning from the CLV model of immersion-style teaching, Dr. Cannella believes that creating a living laboratory of language and culture is the best way to accelerate Chinese language learning for students in a fun and meaningful way.

"Learning a language is essentially about building relationships. We are not learning Chinese in a vacuum, but in a wider global context where culture, history, values and politics all shape the ways in which we interact with one other. My aim is to support students, as they become confident speakers of Chinese who also possess a high degree of cultural competence."

- Shannon M. Cannella
Shen Congwen and Modern China: An International Symposium
AsiaNetwork 2016 Annual Meeting: ASIA's ENVIRONMENT: Local Experiences, Global Reverberations