Image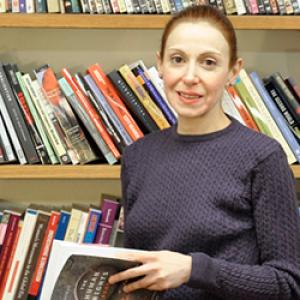 L. DeVriese
Professor - Global Studies; Administrative Head (Global Citizenship, Ethics, and Cultural Studies); Director of the Global Engagement Center
Work space:
St. Paul Main Campus > Giddens/Alumni Learning Center > Giddens/Alumni Learning Center GLC 148S
Dr. Leila DeVriese is the Director of the Global Engagement Center, as well as Chair of Global Studies and Director of the Model United Nations program.
Dr. DeVriese has over 20 years experience working on the internationalization of curricula and building global partnerships in higher education institutions around the world, including Egypt, UAE, Canada, and the US. In her role as the Director of the GEC, Dr. DeVriese will oversee the overall direction and management (budgetary and otherwise) of the center as well as the roll out of the GEC's new branding and strategic plan. In addition, she will provide vision, leadership and strategic planning for Hamline University's current and future globally oriented curricular and co-curricular programs and international initiatives by building strategic partnerships in support of a diverse portfolio of international programs. Dr. DeVriese will work on fostering HU's global strategy and engagement by: Leading efforts to develop, maintain, and enhance HU's international partnerships with foreign institutions; and Representing the university to international constituencies and organizations. She will facilitate and enhance HU's global scholarship and engagement, and collaborate with academic and administrative units across campus engaged in global activities to harness resources, streamline existing processes and develop more strategic approaches to expand the global perspective of HU students, faculty, and staff and support their internationally focused work as part of comprehensive campus internationalization. This includes the development of: faculty-led short-term study abroad opportunities, collaborative and cross disciplinary faculty and student mobility programs, academic and research exchanges, short-term professional training and experiential programs, among others, with foreign universities and research institutions. In her new position as the GEC's Director, Dr. DeVriese will also lead the development and implementation of data-driven and innovative pathways to internationalize curricular and co-curricular high impact practices and align them with global learning outcomes in accordance with the Hamline Plan in general, and the Global Citizenship HP in particular.
Credentials
M.A. in Political Science (IR specialization), University of Toronto, 1996. Ph.D., Interdisciplinary / Political Science, Concordia University, Montreal, 2002. Post-Doc, McGill University, Montreal 2003
Dr. Devriese's teaching philosophy reflects her interests in collaborative authorship, raising global awareness, interdisciplinarity, critical thinking, and experiential and service learning. Using the Socratic Method, I draw on current events pertinent to students' lives to introduce questions that structure classroom discussion. In-class time, therefore, consists of a combination of lectures, small-group discussion, large-group discussion, films, and debates. In all her courses, she places heavy emphasis on critical thinking and real-world applications of the concepts and issues we study. Because of her commitment to critical pedagogy, and its attention to social justice, the empowerment of disadvantaged groups, and the social and political context of learning, her courses – irrespective of discipline or course content – always involve a critique of tradition and the consideration of new social arrangements. Equipping students with the skills to reflect critically about the ideas and theories contained within both classical texts and contemporary scholarly articles cultivates a new sense of agency. Her aim is to have students freed by the end of the semester from previous conceptions or interpretations.
 "In my teaching as well as my research, I am inspired by the words of bell hooks who makes a compelling argument for the need to transform ourselves into teachers armed with "radical and subversive" strategies that are capable of breaking new ground."
- Leila DeVriese