Image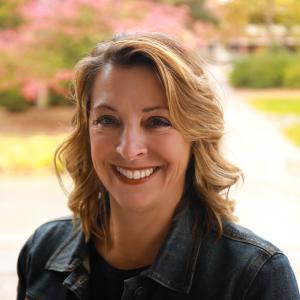 Jennifer Carlson
Professor - Education
Work space:
St. Paul Main Campus > Drew Residence Hall > Drew Residence Hall DRH 66
Dr. Jennifer Carlson's work focuses on literacy and pedagogy, particularly in secondary education. Her specific areas of expertise include reading engagement, comprehension development, online teaching and learning, teacher leadership and instruction. Her key areas of scholarship include online teaching and learning, school partnerships, literacy methods, leadership, professional development, and young adult literature. She is committed to integrating positivity, hope and joy into teaching and leadership practices.
Jennifer finds that teaching and learning are about providing experiences that encourage active thinking and encouraging students to construct knowledge through personal experiences. She believes that teaching and learning are synonymous, so she rarely teaches the same concept in the same way twice.
"The whole world is full of wonderful things. Let's read, observe, examine, pull them apart, and put them back together again in new ways. And let's do it together."
—Jennifer Carlson
Recent publications:
Strop, J.J. & Carlson, J. L. (2010). Multimedia Textsets: Changing the Shape of Engagement and Learning. Winnipeg, Manitoba, Canada: Portage and Main Press.
Carlson, J. & Erickson, T. (2014). Hamline University School of Education Institutional Report. NCATE.
Recent presentations:
Moroz, K. & Carlson, J.L (2013). Engaging Tween Readers: Higher Level Thinking through
Purposeful Dialogue. Literacies for All Summer Institute. Hofstra University, Long Island, NY. July.

Carlson, J. (2013). Using Multimedia Text Sets to Support Higher Level Thinking. Hamline Summer Literacy Institute, St. Paul. July.
Moroz, K. & Carlson, J.L (2012). No Study Guides Allowed: Making meaning with tweens. NCTE. Las Vegas, NV. November