Image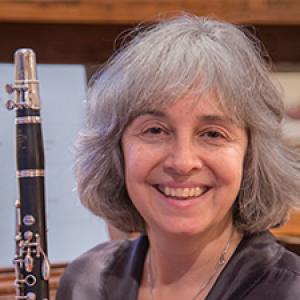 Janet Greene
Clarinet, Music Theory and Chamber Music Professor; Department Chair - Music
Work space:
St. Paul Main Campus > Drew Fine Arts Center > Drew Fine Arts Center DFA 111
Dr. Janet Greene is a professor of music at Hamline University. She directs the Wind Ensemble, coaches chamber music, and teaches music theory, clarinet, music-focused first-year seminars, world music survey, and capstone projects. In addition, Dr. Greene works with students on internship placements in arts administration, the recording industry, and educational settings. Dr. Greene adjudicates for metro-area competitions, including those organized by The Schubert Club, MacPhail Center for Music, and St. Joseph School of Music. As a professional clarinetist, she has performed with the Minnesota Orchestra, the Saint Paul Chamber Orchestra, the New York City Opera, and the Marlboro Music Festival, among many others. Currently she is most active as a collaborative chamber musician and recitalist.
Dr. Greene has collaborated on a number of recordings and has issued two solo CDs. "The Lyrical Contemporary Clarinet," released in 2011, is a collection of chamber music featuring the clarinet by the American composer Edward Marcus. Her 2015 recording, "Russian Journeys," highlights rediscovered clarinet solo pieces by Russian composers of the Soviet and pre-Soviet era (late 19th century to late 20th century). Dr. Greene also pursues scholarship in period performance practices and plays a replica of a 10-keyed 18th-century classical period clarinet. Recent academic areas of interest and research include music education as a social justice issue and interdisciplinary studies of music and the brain.
Students in Professor Greene's classes and ensembles find themselves involved in hands-on creative explorations, whether it is compose-to-learn activities in music theory or sculpting the shape of a melodic line in a solo.  In performance settings and classroom courses, she creates opportunities for students to develop into strong leaders and sensitive collaborators.
"I love to see students explore possibilities and engage in purposeful play.  I urge my music students to lead with their hearts and tap their creative spirit, but follow up with rigorous, disciplined work.  No matter how much detail is learned and practiced, it must be in the service of larger artistic goals."
- Janet Greene