Image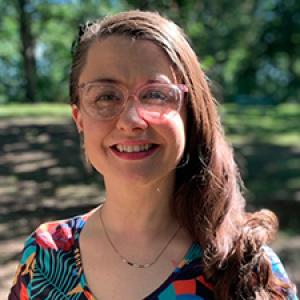 Catheryn Jennings
Assistant Professor - English
Work space:
St. Paul Main Campus > Giddens/Alumni Learning Center > Giddens/Alumni Learning Center GLC 234W
Catheryn Jennings is an Assistant Professor in the Department of English. She received her doctorate in Writing, Rhetoric, and American Culture at Michigan State University in 2020. She received her BA and MA at Northeastern State University in her hometown of Tahlequah, Ok, the capital of the Cherokee Nation, her tribal community. Cat's research and teaching interests include First Year Composition; Indigenous Rhetorics and Representation; Queer Rhetorics; Composition and Rhetoric; Cultural Rhetorics; archival studies; Digital Rhetorics; Community Engaged Rhetorics.
Courses taken with Professor Jennings will focus on the social and cultural nature of the classroom to create a community of learners that works together to create an environment where class members feel comfortable engaging with and sharing their work, work that can be very personal and vulnerable. In class, time is spent working to facilitate a more personal relationship with the creating and composing process by asking students to consider their work as part of larger conversations and to understand that the work they do can be impactful both within their own communities and to our shared global society.
With a priority on student learning and knowledge making practices, Professor Jennings' courses introduce ideas to students and work with them hand-in-hand to become critical participants in the class content, sharing the progress of work and sharing stories to help break down the purely student/teacher audience of the writing classroom and instead, open it up to a class community of peer mentors, building relationships between learners and working together to create knowledge and knowledge-making practices.